Weekly Overview: Human Rights Situation in Mon State, Karen State, and Tanintharyi Region
Third Week of September 2022
HURFOM: A weekly update by the Human Rights Foundation of Monland (HURFOM) on the situation on the ground. Summary data includes Mon State, Karen State, and Tanintharyi region.
There are many challenges that civilians in Southeastern Burma are facing amid worsening military junta offensives. Those unlawfully detained are being forced to pay bribes as the economy continues to unravel. Inflation has made the cost of living nearly impossible for some households. And yet – the junta is demanding large sums for the release of innocent civilians. Over the last week, the Human Rights Foundation of Monland (HURFOM) documented four cases of the junta demanding ransoms to free family members in Ye, Mon State. The situation is at a crossroads and is showing no signs of improving.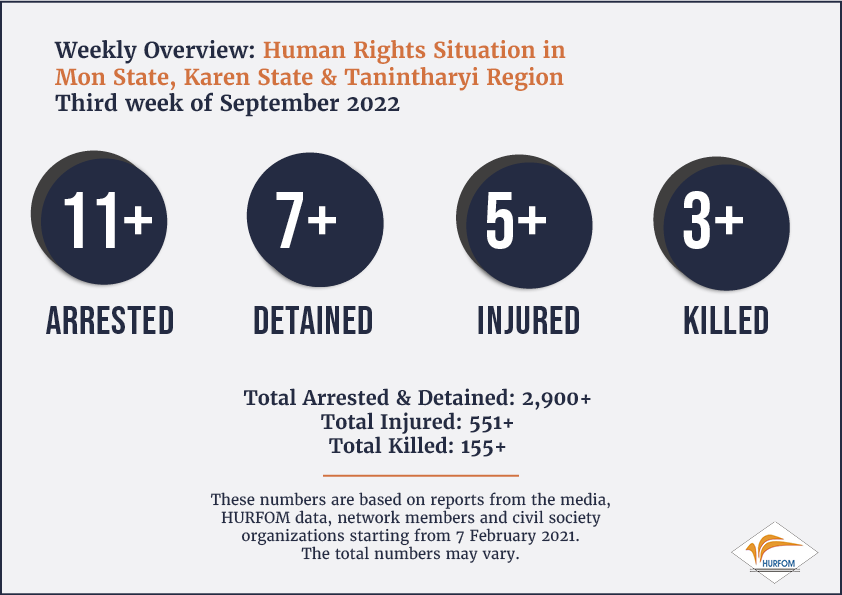 Human rights defenders continue to be targeted by the illegal junta. HURFOM documented that three members of the Civil Disobedience Movement and staff from Dawei were sentenced to up to two years in prison. Four civilians, including two female activists, were also sentenced in Kyaikmayaw Prison over the last week. In addition, three young men were also sentenced in junta-backed military coups to four years in prison in Hpa-An.
A former political prisoner in Dawei Prison was re-arrested at around 2:30 on the afternoon of 12 September 2022, according to his colleagues. Ko Myo Minn Oo, age 22 a student at Dawei University of Technology, was arrested when he came to his work in Khon-Win-Dyt Ward, Dawei. This is the second time he was arrested. The first time was in May last year. His neighbor told HURFOM: "he spent about six months in prison in October 2021, but then he was freed and released." On September 11 2022, one of his colleagues, Ko Aung Wayan Tun, a student at Dawei University of Technology, was also abducted by junta security forces during a midnight raid in Dawei downtown. It is not yet known why they were arrested.
Locals reported that in some villages in Kyaikmayaw Township, Mon State, that the junta is forcing them to serve as sentries to protect their Administration Offices, schools and other community perimeters from attack. Although village security falls under the junta troops' authority, the area's ongoing conflicts have resulted in the soldiers forcing the local civilians to guard the villages and the junta-related departments and buildings: "They have been forcing us to take sentry duties for almost a year and a half. They ordered us to work for free. This is a form of forced labor," said a 45 year old villager who wished to remain anonymous. He added, "we are scared of being stuck between the two sides fighting. During these years, I haven't been able to find enough income to support my family. Some months I have to guard all day and night. If one can't take the required duty, we must hire other people. We told the Mon Party, who is currently sharing the chair with the Burmese Military Group, but nothing has happened yet. Please help us raise this issue," one villager said.
The cost of hiring a man for one day or night sentry duty is 5,000 to 10,000 MML. Villagers living in not only part of the eastern Kyaikmayaw Township, but also in some villages located along the side of Attaran River have been forced to guard their towns for the junta.
On September 9 at 9:30 PM, the joint forces of pro-junta militias and military forces (approximately 40 troops ) entered the Nyaung Zin village, Thayetchaung Township, Dawei and fired discriminately at the civilians' houses and harmed at least three women villagers. Three of them were shot in the shoulder and arm. Ma Thin Myint, Daw Moe, and Daw Aye Shin were wounded by the indiscriminate gunfire. "The junta and militias illegally burglarized villagers' locked homes by kicking them in. They kicked the door and forced it open. Homeowners were taken out at gunpoint. Nyaung Zin villagers have kept organizing silent strikes and threatened not to go on any more strikes, and if they went out again, they threatened to burn down the whole village, a villager said. In the case of terrorist attacks and lootings, the militias and soldiers mainly enter houses with shops and take valuable things such as phones and gold items by force.

Education is yet another social sector that has been sabotaged by the military junta. Approximately ten government schools in Kyainnseikyi Township, Karen State were forced to reopen despite security concerns. Due to the armed conflicts in the villages, most villagers have closed the schools since June 2022 due to the fighting: "Even though armed clashes are ongoing, the junta council is pressuring our village head and school officials to open government schools in Nan Tie Tun, Pha Yar Ngar Zu and Daung De village of Kha Lae – Da Gon Dai area"
The junta issued the order to open schools, but the teachers, the parents, and the village administrators held a discussion. The security situation here remains unstable, so most teachers are afraid of teaching. No one can guarantee the safety of students," said a villager.
Comments