Weekly Overview: Human Rights Situation in Mon State, Karen State, and Tanintharyi Region
Second Week of September 2022
A weekly update by the Human Rights Foundation of Monland (HURFOM) on the situation on the ground. Summary data includes Mon State, Karen State and Tanintharyi region.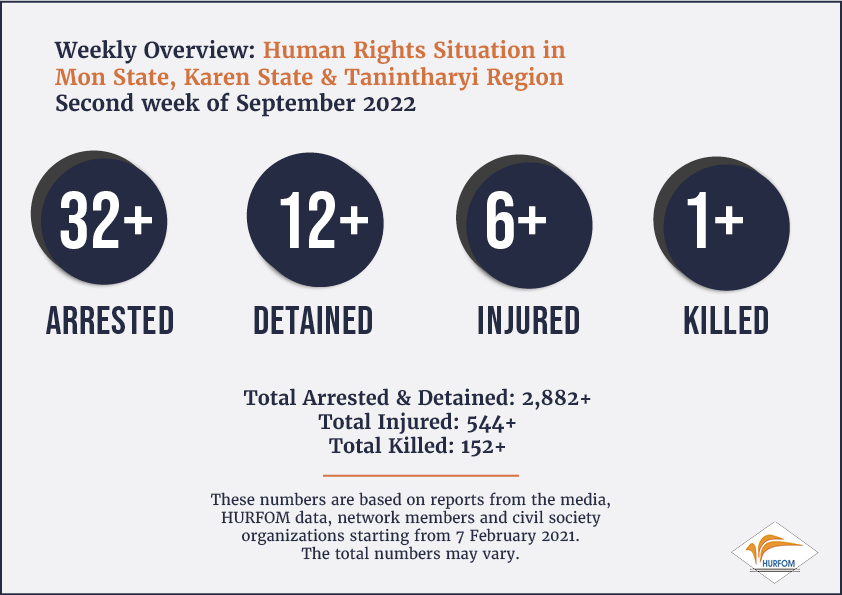 Excessive violence across the second week of September 2022 in Southeastern Burma saw dozens more victims subject to the junta's brutal violence, and draconian polices which have seen hundreds behind prison bars for crimes they are not guilty of. The junta-backed court imposed orders on about (42) political prisoners in Dawei Prison over the last six months, according to the sources from Dawei Political Prisoners Network. About 30 are still facing trial. Most of those imprisoned in Dawei have been charged under section 505 A and B of the Panel Code.
As the junta backed forces continue with their spree of terror and unlawfulness, inflation remains a constant burden for families who are unable to keep up with rising costs amid a mismanaged economy. Even soldiers of the military junta are being exploited by higher-ranking officials and subsequently not being paid enough. Many families, including military families, are in debt: "Some families now have to use all the salary just to pay interest and they have to borrow money to buy food." For many civilians who have lost their livelihoods due to landmines planted in their fields and villages, the prospects of work
Meanwhile, as prices soar, the junta is not hesitating to destroy more civilian homes. In Kyun-Su Town, Myeik District, destroyed 14 houses and seized land plots: "They destroyed and took the land with no compensation, on the pretext that it was for building the electricity department compound and office." The director of General Administration Department and the person in charge of the electricity department is the authority who gave orders to confiscate the land and unlawfully remove homes. This occurred between September 3 and 6 at Ward No.3, Kyun-Su Town. Reporters tried to contact one of the landowners, and she said most of the male heads of households living in these homes are currently working in the fishing boats. Some of them lived as day laborers in the plantation and orchards, and the rest of the family members found it difficult to move during the rainy season. The incidents happened while their husbands were away. A member of the destroyed family confided that there was no life security, no food, and now there was no place to live.
Arbitrary arrests and abductions continue to cloud fear and uncertainty among civilians. On September 4, junta forces arbitrarily arrested three young people driving a car in Nyang Yangtaung Ward, Dawei, according to local witnesses: "I saw a group of police forces and soldiers conducting a security check on a car and three people were arrested." The second source also confirmed that the junta checked and arrested the Honda Fit car driver and pointed the guns at the three men, forced them to kneel on the street and started beating them. "They were likely included in the list of arrest warrants, and that was why the three young men were taken. Their names and addresses are still being investigated," a 50, year old man who talked to the reporters said. According to the field research, there were about (19) civilians arrested in Dawei within a week, and only about (11) people were released by paying ransoms.

A group of approximately 30 members of the junta and militia groups, including members of the village administration, have been conducting midnight searches in Ka Mar Mole village, in the Chaung Zone Township, Mon State. Villagers said they are worried about their safety. "We don't know when they will come to search our houses. They've said they'll search for drugs, but we're afraid that they will give us an irrational reason to arrest us," said one villager. The military has presented unsubstantiated claims to justify the night searches. The military council has also established many checkpoints where passengers traveling by car or motorbike are stopped and subjected to rigorous security checks.
The following incidents have only heightened fears and concerns of civilians across the region.
Comments