Weekly Update in HURFOM Targeted Areas (October: Week Four)
A weekly update by the Human Rights Foundation of Monland (HURFOM) on the situation on the ground. Summary data includes Mon State, Karen State, and Dawei Region.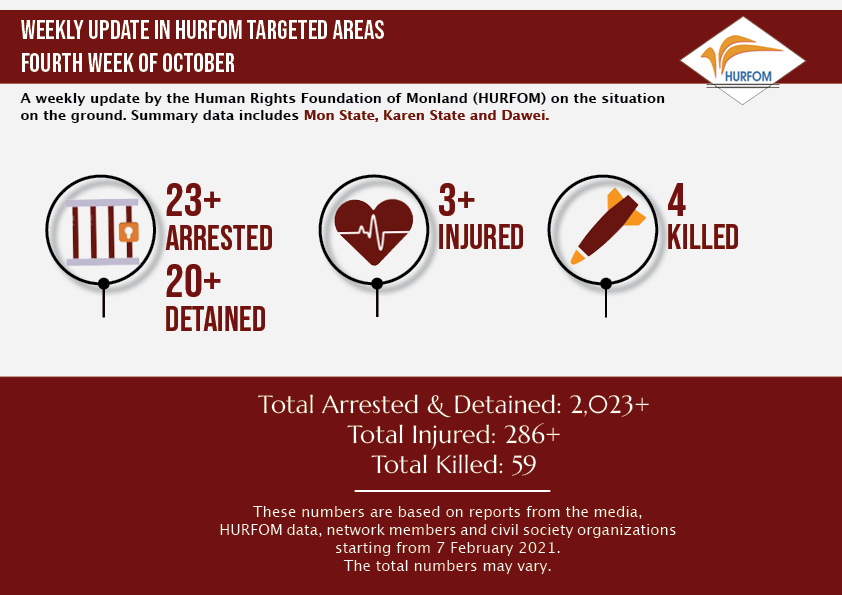 Across the month of October, HURFOM fieldworkers reported on a series of widespread, systematic human rights violations committed with impunity by the Burma Army. The regime continues to carry out crimes against humanity through targeted assaults on civilian lives and property. The junta soldiers have showed no mercy. Villagers from Ywa Thit, Kawkareik Twsp reported that they had unearthed a disabled villager killed and buried by the junta soldiers. U Aung Myint had physical handicaps. While the battalions were operating in his village, he could not run. The soldiers killed him for no reason.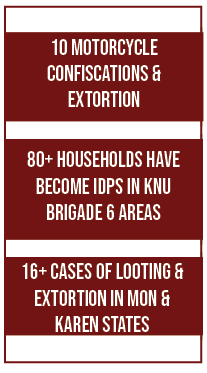 Family members also continue to be taken as hostages. On October 23 in Dawei at about 8 PM, a group of junta security forces entered into the house of Daw Mar Mar Thet and abducted her. They came and looked for Ma Pan Ei Phyu, one of the daughters of Daw Mar Mar Thet. But Pan Ei Phyu was in hiding, and they arrested her Mom as a hostage. The next day, junta troops arrested another three people, including a 7-year-old child who are family members of Daw Mar Mar Thet and Ma Pan Ei Phyu. They're all residents of Daung Ngu Ward, Dawei.  
Young people are also being indiscriminately targeted. Two young civilians from No. 2 Ward, Hpa-an Township, Karen State were just abducted and brought to prison. Military intelligence grabbed a young woman and man from Ahmat Hnit ward. The troops came with three trucks into Ward No.2, arrested them after checking their mobile smartphones. They were about 20 years old and are likely being held at Hpa-An prison in Karen State.
Murderous acts are ongoing as junta troops killed two young civilians who were detained on October 23. Ko Htet Wai Naing, 23, and Ko Than Soe Oo, 23 were the residents of Ottaran Ward, Dawei. They were killed on Yay-Wai street. Both bodies had gunshot wounds. Families were informed to claim their bodies on the 24th.  
Meanwhile, abductions and arbitrary arrests of anyone the junta deems suspicious have resulted in rising levels of fear. Thousands have been forced to flee their homes for safety and security reasons.
Comments