COVID-19 patients resort to questionable home treatments and prices of immune supplements rise
HURFOM: Increasing case counts from the third wave of COVID-19 has meant that public hospitals are unable to accept all COVID-19 patients.  An increasing number of persons are taking home treatments and immune supplements. The price for these products has risen sharply, and in many cases are either out of stock or limited.
However, the Mayo Clinic based in the US, and other respected medical sources have pointed out that supplements like vitamin C, zinc, green tea or echinacea which are thought to boost the immune system are unlikely to prevent you from getting sick from Covid-19.
"Now the spread of the virus is everywhere and people are afraid of being infected so they're aggressively buying immune booster medications. Those who have signs and symptoms of COVID-19 are taking such treatments at home and people have started keeping these medicines at home. That's why there is a high demand of COVID-19 related medicines in the market," said a pharmacist in Thanbyuzayat.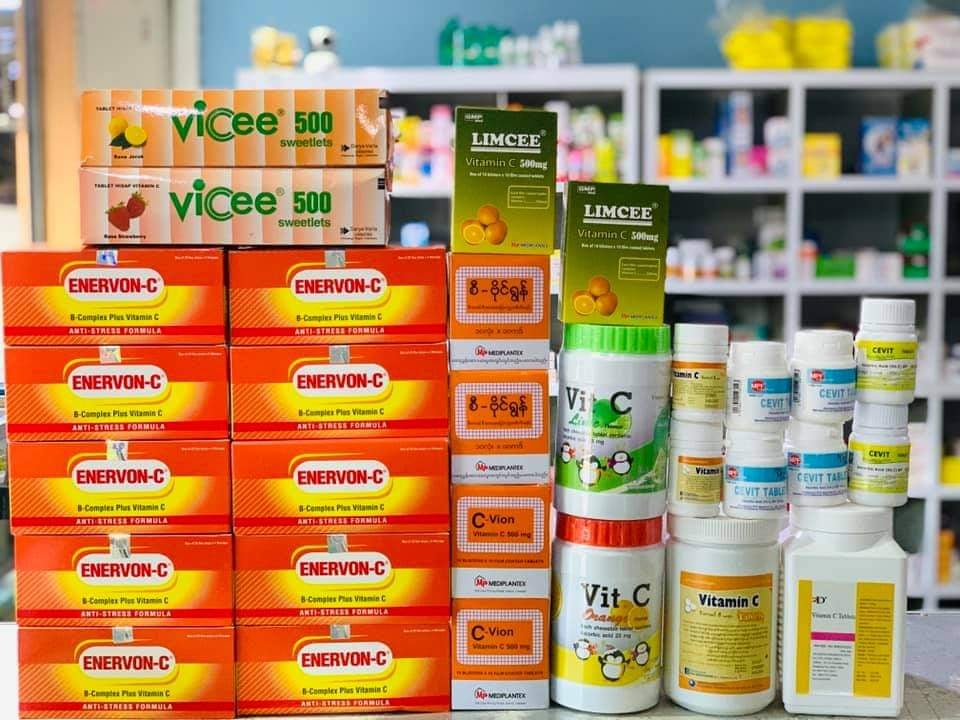 A medic from Mudon Township also indicated that immune booster supplements were out of stock at the moment.
"There are no supplements in the market. People are aggressively buying popular immune boosters but it's very difficult to get ones," said the medic.
According to Dr. Anthony Fauci, Director of the US National Institute of Allergy and Infectious Diseases says that most "so-called immune boosting supplements" actually do "nothing."
Despite the science cautioning people about taking immune supplements, products such as Ceovit, Enervon-C, Vice and other vitamin-c related supplements and analgesic medicine such as "Biogesic"are out of stock.
"You can't buy any popular immune supplements. They're out of stock. We also can't order the supplements," said a pharmacist from Thanbyuzayat.
COVID-19 related medicines and immune supplements have doubled or tripled in price. A pill of Enervon-C is priced at 800 Kayt now. A card of "Biogesic" tablets which was priced at 1,000 Kyat before is now priced at 3,500 Kyat. A 700-kayt Ceovit is now priced at 1,500 Kyat. No stockpiling is permitted as there are limits on what can be purchased.
Even delicacies like bird's nest soup are thought to be helpful, however, there is no scientific evidence or research that has been done to suggest this is an effective treatment or preventive measure against Covid-19. Currently no cure exists for Covid, but the vaccines are capable of reducing the severity of the virus.
"We've ordered "Bird's Nest" (a soup made from the dissolved nest of the swiftlet bird)) but haven't received it yet. The product hasn't been imported for three weeks. We don't know what the price will be," said a seller from Thanbyuzayat.
As a result of the military coup, the public health system has collapsed and the public hospitals have no beds to accept the COVID-19 patients. The military junta also controls the availability of oxygen which is essential in COVID-19 treatmen
Comments