Public health system collapses: public helpless in fight with Covid-19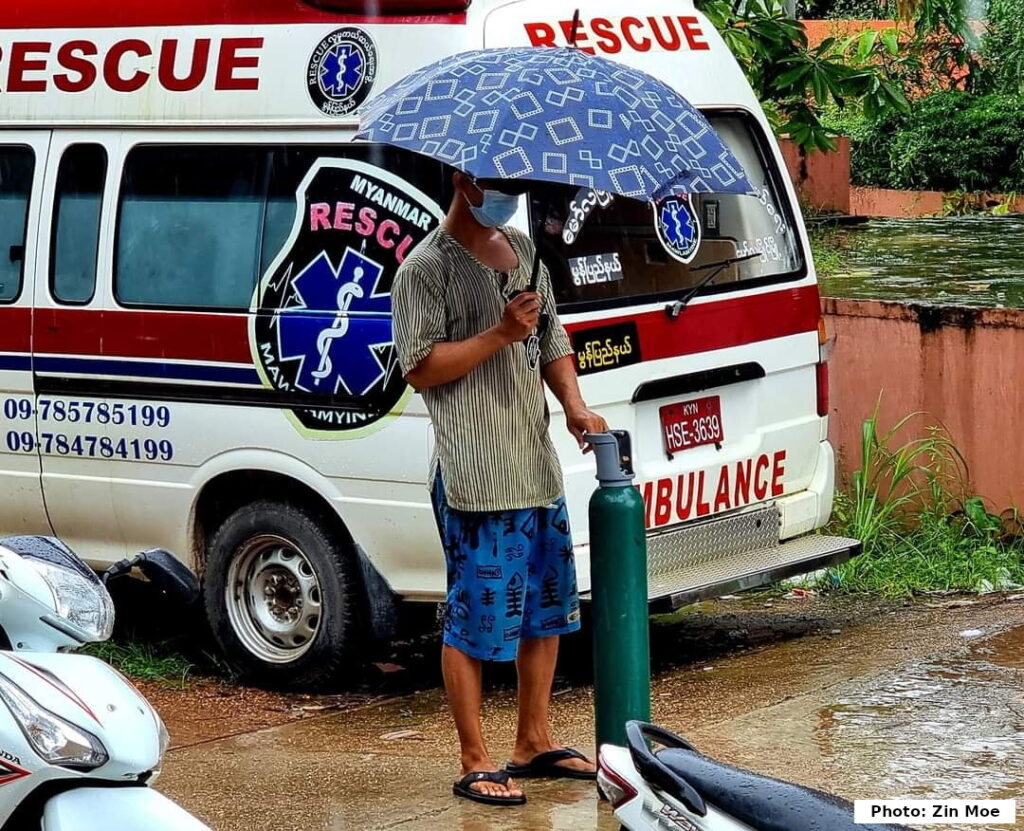 HURFOM: The public health system of Mon State has collapsed during the third wave of COVID-19. High infection rates and deaths have left the  public helpless in the fight against the pandemic.
In response to the coup, health workers have left their workplaces, and public hospitals do not have enough beds to accept COVID-19 patients. Private clinics have also closed due to the large number of cases.
The health system has failed to screen suspected patients with rapid diagnostic tests (RDTs) and has been unable to implement effective quarantine protocols. The price of medicinal drugs has risen sharply, and related equipment is often out of stock.
Some communities have imposed "COVID-19 gates" at the entrance of their villages and restricted peoples movements resulting in delays or simple stopping the transportation of food and medicine.
"The third wave is different from the first and second ones. The symptoms are severe. There have been an inadequate number of doctors, so proper treatment can not be provided. We don't want to blame the doctors even though there have been lots of weaknesses as they'd tried their best," said one covid 19 patient.
As the hospitals and clinics have closed, others in need of healthcare assistance including pregnant women have been struggling to get health service.
"I'm a pregnant mother so I have to visit the doctor regularly. But the clinic I've visited has closed till the end of the month. If I feel an illness at the moment, I will be in trouble," said a resident from Mawlamyine.
The rapid spread of the virus has outpaced the ability to screen individuals with RDTs across Mon State. Only fever clinics are equipped to provide a COVID-19 test, and only for patients with severe symptoms.
"Most private clinics have closed due to COVID-19. The Mawlamyine General Hospital has opened but it has only few staff. Because they have to prioritize the COVID-19 patients, other patients are in trouble. The health system is in a state of chaos," said a Ye resident.
Individuals who lose their sense of smell and taste (symptoms of the infection) are urged to stay home and avoid contact with others.
There has been a high demand for basic medicines, and prices have risen sharply.
"Most of the pharmacy shops were closed in Mawlamyine. Some big shops have provided service but not for the whole day. The price has unexpectedly risen. We could get a card of paracetamol with 600 Kyat before, but now it costs 1,500 or 1,700 Kyat," said a resident from Mawlamyine.
Analgesic, antipyretic and cough suppressant drugs and vitamins have been either out of stock or can only be bought with limitations.
"Not only me but every patient has trouble now. We have to pay an unreasonable price for medicines. But we have no choice as it's a health issue," said a woman from Mawlamyine.
While there has been no assistance forthcoming from the military, in many communities villagers and young people have organized self-reliance health teams to assist.
Mawlamyine-based Thar Thanar Nwe Foundation has created a mobile clinic program and is providing a free health service that comes to people's homes. But the program can accept only 20 patients per day.
In another community to help control the spread of the COVID-19 virus, the local administrative body, a community health team and a youth charity group installed a COVID-19 check gate at the entrance of their village and has put in place limited movement protocols.
At the COVID-19 check gate in Kaw Dut village, Ye Township, Mon State individuals are not allowed to enter the village. The transportation of food and medicine to Kalagote Island was also stopped leaving villagers in trouble.
"We patrolled the village and announced with loudspeakers how to prevent COVID-19, how to receive treatment and what health measures to follow. If there are suspected patients or a person who has lost their sense of smell or taste, the "village COVID-19 control team" will take care of everything," said a young volunteer with a community based COVID-19 prevention team.
Comments