Some junta's administrators extorting money from residents under 'Stay at Home Orders"
HURFOM: On July 7, 2021, the junta controlled Ministry of Health and Sport, declared that Thaton, Mawlamyine and Thanbyuzayat Townships of Mon State are  under a "Stay at Home" order.
Soon after the declaration, on July 9, the junta-led authorities warned people in these townships that if they wanted to go outside, they must have a permit, also referred to as a "going outside ticket". Individuals caught without such a permit would be punished in accordance with the existing laws.
The permit/"going outside ticket" can be obtained via the village/ward General Administration Department (GAD). However, some Administrators in Mawlamyine are demanding between 300 to 1,000 kayt for each permit.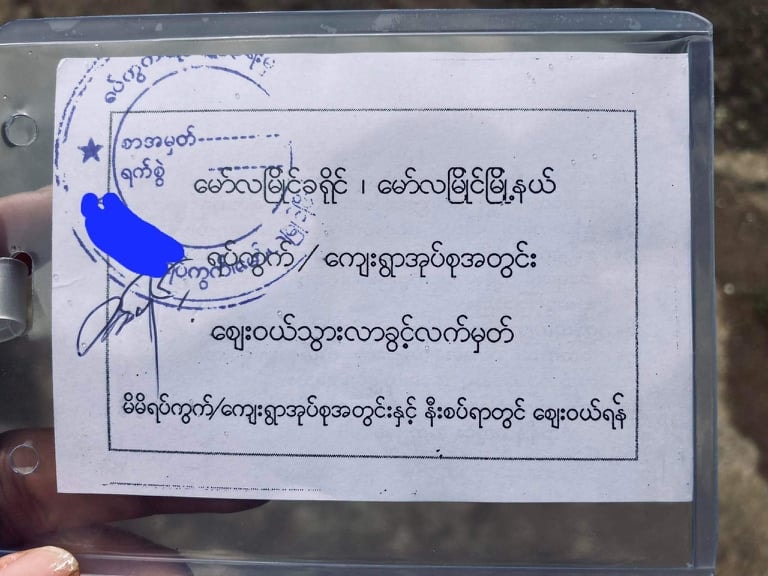 "We have to request the ticket from the "hundred household leader". We have to pay 300 kyat. We must have the ticket to go outside. If not, we'll be punished. In some wards, some have to pay 500 kyat while some pay 1,000 kyat. I have no alternative but to pay as much as they demand as we must go outside," said a woman from Mawlamyine.
Junta security forces are asking residents to explain the reason for going outside, and they must comply by providing detailed information.
Two people per household can go outside for a health emergency and the ticket can not be transferred or sold to others.
"Now, we have a political crisis and the COVID-19 spike and our economy is unhealthy. We're in a hand-to-mouth situation. The amount (for these permits/tickets) is extortion. The amount wasn't too much but it's unfair to us, the people," said a resident from Mawlamyine.
Interviews conducted by HURFOM, as well as a review of social media posts suggest that some of junta's appointed Administrators are demanding money for these permits/tickets. The extortion does not appear to be widespread in rural areas.
"I don't know what happens in Thanbyuzayat but in our village, we had to request the ticket at the Administrator's office. We had to show our household list and ID card. One household got one ticket. They didn't demand money," said a woman from Thanbyuzayat Township.
The permits/tickets are not valid during the established curfew times which occur daily from 10 pm to 4 am.
Comments