Weekly update on the situation in Karen State, Mon State, and Dawei (5 July – 11 July)
HURFOM, Mawlamyine
The human rights crisis in Burma is being compounded by the increasingly dire public health crisis as COVID-19 infects hundreds daily.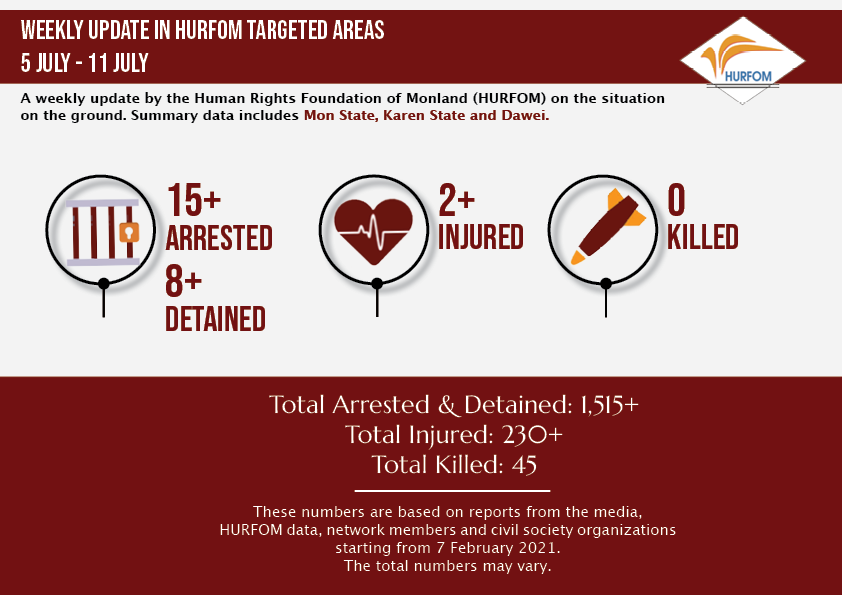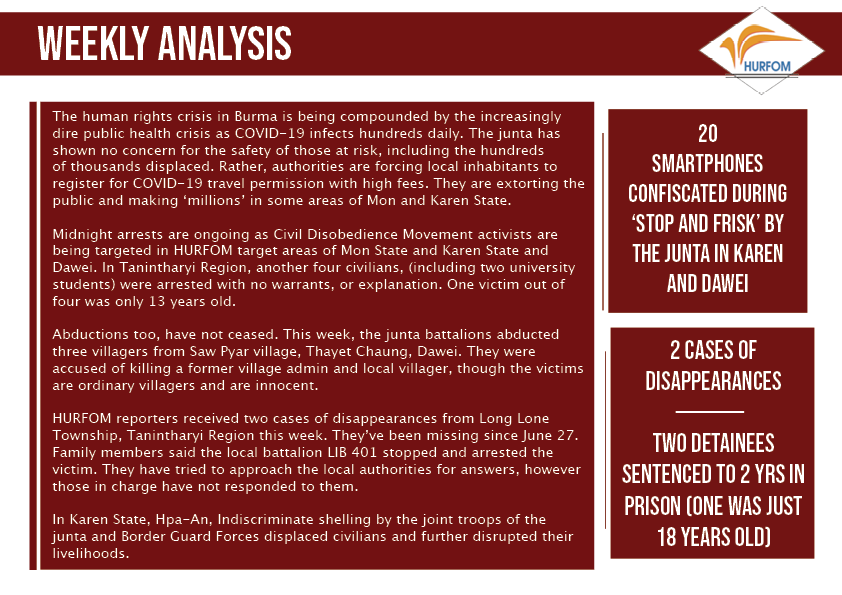 HURFOM Weekly Analysis: The junta has shown no concern for the safety of those at risk, including the hundreds of thousands displaced. Rather, authorities are forcing local inhabitants to register for COVID-19 travel permission with high fees. They are extorting the public and making 'millions' in some areas of Mon and Karen State.
Midnight arrests are ongoing as Civil Disobedience Movement activists are being targeted in HURFOM target areas of Mon State and Karen State and Dawei. In Tanintharyi Region, another four civilians, (including two university students) were arrested with no warrants, or explanation. One victim out of four was only 13 years old.
Abductions too, have not ceased. This week, the junta battalions abducted three villagers from Saw Pyar village, Thayet Chaung, Dawei. They were accused of killing a former village admin and local villager, though the victims are ordinary villagers and are innocent.
HURFOM reporters received two cases of disappearances from Long Lone Township, Tanintharyi Region this week. They've been missing since June 27. Family members said the local battalion LIB 401 stopped and arrested the victim. They have tried to approach the local authorities for answers, however those in charge have not responded to them.
In Karen State, Hpa-An, Indiscriminate shelling by the joint troops of the junta and Border Guard Forces displaced civilians and further disrupted their livelihoods.
Guerrilla strikes led by local youth and villagers continued across northern Dawei Township areas and Paung Township in Mon State, despite extrajudicial executions, arbitrary detention, and torture by the junta forces.
Comments