MUP Election Campaign Committee suspects NLD win is due to migrants' votes
HURFOM: In Thanbyuzayat Township of Mon State there were 4 parliamentary seats available in the election, and the National League for Democracy (NLD) won 3 of those seats. The local ethnic party, the Mon Unity Party (MUP) won only one seat. The Chair of the MUP election campaign, Naing Kho Seik believes the NLD won the Thanbyuzayat election due to the votes cast by migrant workers.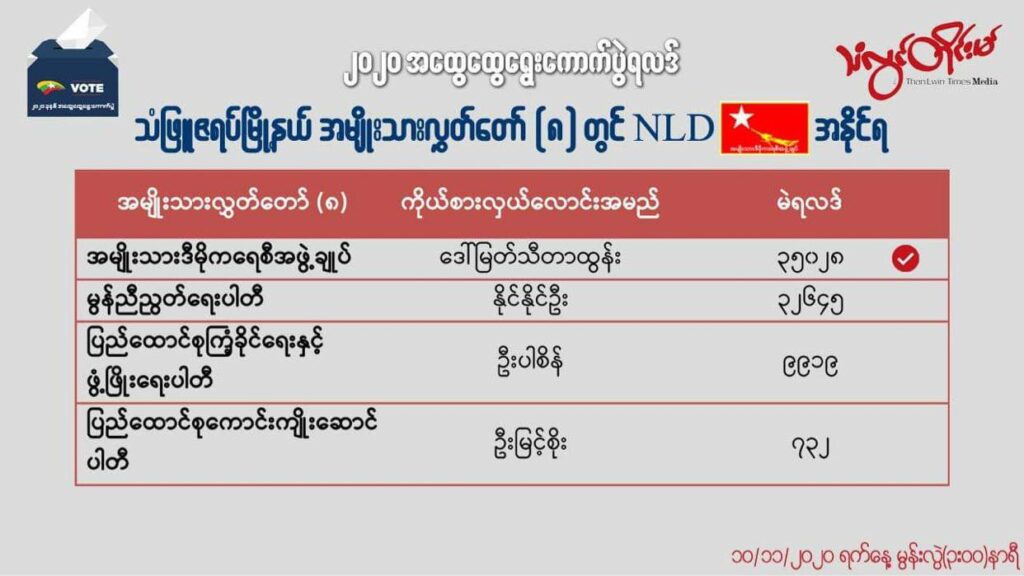 "We hoped we would get half of the votes of the urban people. But, in reality, we didn't get this number. We only won two wards. We lost by a wide range in some wards. We checked the voter list and found the number of voters exceeded eligible resident voters. That means there were more migrant workers. I think we lost the election by the votes of the migrants. To witness the situation, we'll call a meeting and discuss the issue," said Nai Kho Seik.
The table below shows the NLD & MUP vote outcomes by Hluttaw
| | | |
| --- | --- | --- |
| | NLD | MUP |
| Pyithu Hluttaw | 35,330 | 29,691 |
| Amoytha Hluttaw | 35,028 | 32,645 |
| Mon State Parliament Seat #1 | 22,630 | 12,318 |
| Mon State Parliament Seat #2 | 12,064 | 20,668 |
"As far as I know, the migrant workers returned to their native place after they voted in the election. I heard that when they stayed in Thanbyuzayat township, the NLD supported them with food and accommodation. So they just came to Thanbyuzayat to increase the number of voters who support NLD. So the number of our voters respectively declined. We'll have a discussion about how to deal with this issue," continued Nai Kho Seik.
Migrant workers were granted right to vote via a electoral bylaw #10, which was consistently opposed by the local ethnic political parties.
The Union Election Commission (UEC) declared the 2020 general election finished although some electoral disputes remain in play within some constituencies.
The UEC has not declared all the names of all election candidates who won the 2020 election, but it is clear the NLD has won enough parliamentary seats to form a majority government.
Comments