The 71st International Human Rights Day Statement by HURFOM
HURFOM: Today, we celebrate the 71st International Human Rights Day and stand with all nations around the world in commemorating the United Nations General Assembly's adoption of the Universal Declaration of Human Rights.
As this year's theme is Youth Standing Up for Human Rights, HURFOM aims to support the potential of youth as constructive agents of change in Burma/Myanmar and encourage them to participate in all decisions that have impacts on their wellbeing.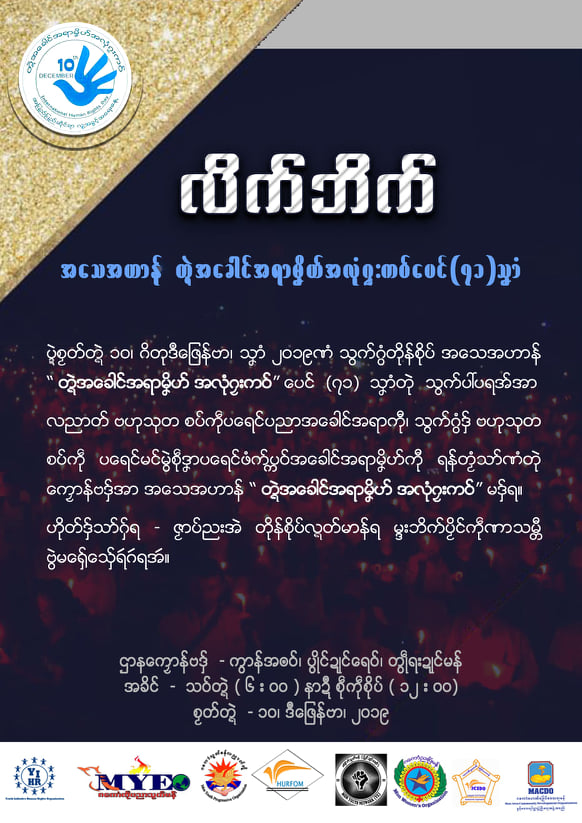 We believe that youth participation is essential in the fight against racism, bullying, discrimination, hate speech, and climate change.
Today Burma/Myanmar is facing many challenges. The human rights situation continues to deteriorate dramatically, and 100,000s of IDPs and war-affected communities in many minority ethnic areas have fled crimes against humanity to safer places. The restriction of humanitarian access has continued across the country, particularly in Rakhine and Kachin states, and extensive violations are ongoing. Impunity persists for past and current human rights violations by state forces, and the NLD-led government continues to dismiss allegations of rights violations and ignore calls for investigations and accountability.
In addition, the government has continued to use a range of oppressive laws to restrict the rights to freedom of expression, peaceful assembly, and association and imprison civilians for peacefully exercising such rights. Human rights defenders, journalists, and lawyers who speak out about human rights conditions around the country still face intimidation, surveillance, and attacks. Women and children are still subject to violence and need better protection under domestic legislation and through rule of law.
Together with human rights promoters, we want to support youth communities to take their role as major drivers of political, economic, and social transformations in Burma/Myanmar, as we desire to see young people leading positive change and assisting in resolving the country's current problems.
The Human Rights Foundation of Monland (HURFOM) is a non-governmental human rights organization founded in 1995 by a group of Mon relief workers, students, and community leaders. HURFOM works to monitor the human rights situation in southern Burma, publishing print and online news, lengthy reports, and analysis of ongoing human rights violations.
Comments