Yangon hosts first Women's Forum
HURFOM: The first Women's Forum in Myanmar, also known as Burma, opened on October 20 at the Inya Lake Hotel in Yangon. The two-day forum was designed to promote women's leadership initiatives and their participation in Burma's burgeoning civil society movements. Participants were encouraged to talk about current issues affecting them and shared these concerns with policymakers to accelerate advances in women's rights.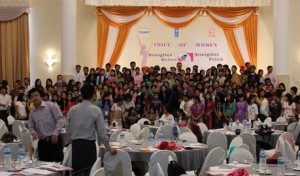 Women-focused organizations like the Gender Equality Network, Phan Tee Eain, Women's Organizations Network, Charity-Oriented Myanmar, Gender and Development Institute, Karen Women Action Group, Comprehensive Development Education Centre (CDEC), and three additional donors jointly coordinated the event. Approximately 200 women from eight of the country's largest ethnic groups participated, coming from community-based organizations, youth associations, senior leadership in civil society, and the general population with interest in gender and women's issues.
The topics explored during the forum were arranged under the categories of Women and Employment, Women and Emergencies, Young Women and Opportunities for Modernization, Politics, Economics, and Women and Decision Making. Attendees discussed disparities in women's access to jobs and education, challenges in the workplace, resettlement, rehabilitation, protection and security, gender mainstreaming, cultural influences on gender roles, entry points into politics, representation in the government sector, parliament, and small to medium-sized enterprises.
Many participants argued that women's decision-making roles in their communities are limited by suppression or censorship in local-level meetings, shortages of time to engage with activities due to traditional duties, cultural hurdles, and lack of confidence to take on the responsibilities typically assigned to men. Women also deliberated approaches to future leadership trainings and cultivating greater opportunities for women's participation.
A woman from the Mon Women Network who took part in the event said, "I was very pleased to attend this inaugural forum that raised the collective voices of Myanmar women. All of us, including ethnic women, came together to speak about what women need and how to responsibly lead and make decisions to fill the current women's leadership gap found at every level of society. I agree with one of women leaders in the forum who said that we could even have a women's political party in the coming [2015] election. Finally, I greatly hope that strong women's voices will strengthen the country's future, and that all authorities and people in positions of power will listen to women and take action very soon to reach gender equality."
Comments