Local people protest Kaw Taung power plant
HURFOM: On October 16, a demonstration was held to express local opposition to the coal-fired power plant in Kaw Taung District. Built by the Than Phyo Thu Coal Excavation Company and owned by Thai-Burmese businessman U Kyaw Lwin, the plant has yet to be granted the 30-year guarantee to begin producing energy. However, residents allege that they heard equipment being tested once in August and again on October 5, and worry the plant may soon begin operations.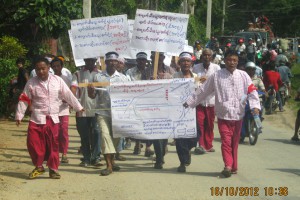 "Even though the electricity produced by the plant would be cheap, around 200 kyat per unit, villagers are concerned about health risks and increased pollution affecting local people, animals, ocean life, and groundwater. So, they protested the power plant," said the regional organizer of the Democratic Party (Myanmar) U Than Htun.
Members of the Mon Democracy Party and the Democratic Party (Myanmar) were authorized to organize the protest after submitting an application to authorities on October 10. During the demonstration, the political representatives joined around 50 local people that carried posters saying, "We do not want the power plant." The crowd marched through ten Kaw Taung villages from 9am to 11am, having been permitted just two hours to protest.
In August, U Than Htun and other Kaw Taung District residents were denied their application to the Tenasserim Region Government Chief Minister requesting permission for 100,000 people to publically protest the plant. This time, the scaled-down version was given the green light.
The contested coal-fired power plant is located between the Shew Pyi Tar and Aye Yaik Nyein quarters of Kaw Taung District. Although the plant was originally built in Thailand in 2000, the backlash from local Thai residents caused the project to be moved and reconstructed in Kaw Taung in August 2011.
Comments