Kyaikmayaw election candidate robbed and injured
HURFOM: Mi Than Htay, aka Mi Ja Loon Htaw an Administrator of Taranar village, Kyaikmayaw Township, Mon State, and election candidate from #2 constituency of Kyaikmayaw Township was robbed in Hline Ward, Mawlamyine on September 1, 2020.
The robbery occurred when she was enroute to the Office of the Mon State Election Sub-commission. Mi Ja Loon was admitted to the Mawlamyine General Hospital.
While riding a bike with her friend to the election commission office, three men on another bike approached alongside, grabbed her sling bag causing her to fall from the bike, breaking three fingers, and injuring her knee.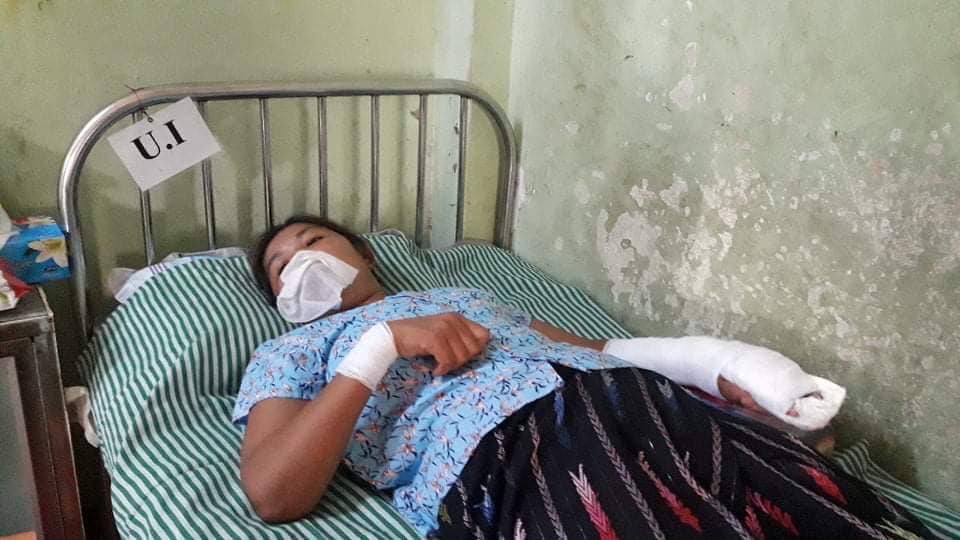 "More than 200,000 Myanmar Kyat and 353 US Dollar was lost. And two smartphones, and my ID card were also taken. My three fingers were broken, and one of them [required a steel insert]. I also injured my knee. I don't know if it needs surgery or not. I can't work now and have to use a wheelchair at the moment," said Mi Ja Loon Htaw.
She said the incident has impacted both her election activities and her regular work.
The incident has been reported to both the Hline Ward Administrator and charges have been filed at the Dyne Wun Kwin Police Station.
"One of them was caught on that day. He is from Myae Ni Gone Ward. The remaining two are from Zay Yar Myine but they still escaped. I was informed by the Administrator. I haven't gotten my bag yet. Now it's four days already but the remaining two still escape," said the candidate.
An official from Dyne Wun Kwin Police Station siad, "One of them was arrested on the day of the incident. We're still searching for the remaining two. As it's under investigation, we can say nothing."
The robbers have been charged under the Burmese Criminal Act #394 – Voluntarily causing injury in committing a robbery.
Comments