Farmland being abandoned: Younger generation not interested in continuing traditional agriculture
HURFOM: Despite paddy farming being a traditional agriculture livelihood of Mon people, new generations are refusing to inherit this work,  and it is increasingly difficult to hire laborers.  As a result farmland is being abandoned in Mon State.
"If I want to farm, I have to hire laborers. Children today are unwilling to inherit their parents' farm work. Even if the parents are working on a farm, their children don't help them. If I decide to do farm work, I have to take care of everything. Thousands of acres of farmland have been abandoned," said Nai Blai Bhae, a farmer from R Yu Taung village.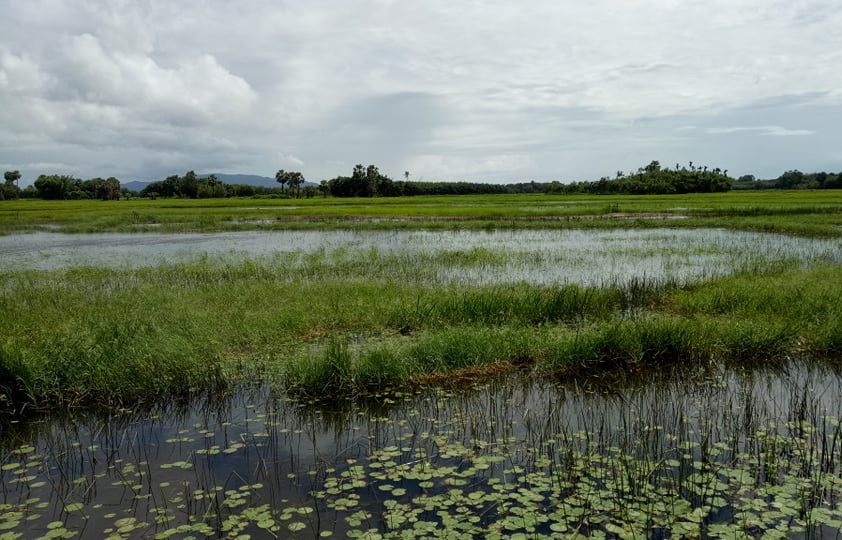 Farmlands across Lamine Township, Taung Pyin, Taung Bone, Zar Ka Lel and the R Yu Taung villages of southern Ye Township, Mon State have been abandoned.
Abandoned farmland also impacts farmers who try to continue to grow crops.
"If your neighbor doesn't do farm work, your crop is at high risk of damage by insects. There is a danger of mice too. So if a farmer decides to abandon their land, another nearby farmer follows the decision. So it looks like farmland is valueless. Those who abandoned farmland went to Thailand for work," said Nai Nyan Seik, a farmer from Zar Ka Lel village.
Farmland is also being divided into subplots and sold.
"In reality, farming can produce acceptable benefits and it isn't difficult work. But if you want to do farm work, you have to do it alone. Your children don't want to help you. Also, it's difficult to find laborers," said Nai Blai Bhae.
According to the villagers, farmland can produce 50 baskets of paddy per acre but if a farm has been abandoned for a long time, soil preparation must be done before rice farming can be productive again.
According to reports, in 2020, there are 700,000 acres of paddy farmland in Mon State, but only 500,000 acres are being actively farmed.
Comments