KNU arrest 37 young drug users and imposes heavy fines
HURFOM: On May 9, 2020, Anti Drug Special Forces of the Karen National Union (KNU)  arrested 37 young drug users from Thanbyuzayat Township, Mon State imposing heavy fines for their release.
The KNU demanded 500,000 Kyat for each arrested person and 500,000 Kyat for a motorbike. Only those able to pay the fine were released from custody.
"KNU has an Anti Drug Special Force based at Phar Pya village. Yesterday (May 8), they arrested 37 young people and 20 bikes. They demanded 500,000 Kyat for each person and 580,000 Kyat for a motorbike. After negotiations, we paid them 200,000 Kyat to release 3 persons and a motorbike," said a father of one of the youth arrested.
On May 7 and 8, the KNU Anti Drug Special Forces unit had set up check-points and arrested young people who were buying and using drugs and Kratom leaves in Inner Sakhan Gyi and Ye Ta Gon villages of Thanbyuzayat Township.
KNU then called the family members of those arrested and demanded payments ranging from 500,000 to 1,000,000 Kyat per person.
"They were detained in a small cell. The cell was full with arrested persons. Some villagers hadn't got contact with their family. Some villagers couldn't pay their fine. They (KNU) said they imposed a fine for drug abuse," said another father who was able to get the child released.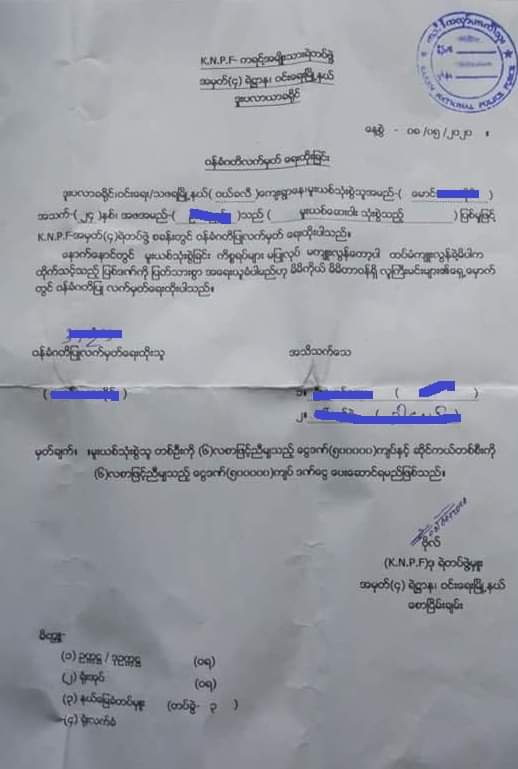 Some parents had to pay up to 1,000,000 Kyat at the time of reporting, half of those arrested remain in detention.
Eye Shay, Inner Sakhan Gyi and Ye Ta Gon villages are inhabited largely by the Karen people. Young people from different villages in Thanbyuzayat Township travel to these villages to purchase drugs or kratom leaves or both.
Ayoung villager who wished to remain anonymous reported "…we went to Ye Ta Gon very often to buy Kratom leaves. But we did a proper inquiry before going there. We have to be cautious about KNU soldiers. Our friend used to be arrested but they didn't (impose heavy often). But the fine is too much this time."
A former member of the New Mon State Party (NMS) added "(Drug and Kratom leaves) are openly sold in Sakhan Gyi and Ye Ta Go. Why don't the KNU soldiers arrest the sellers? They don't arrest sellers but arrest users. It looks like they ignore the seller to get drug users arrested and impose fines. And we have to be careful, (there may be) someone who is active behind [the scene] to create conflicts between Karen and Mon. We must be cautious about that. It's controversial why the police don't arrest drug sellers in those villages."
There has been controversy over how to address the issue of illicit drug use and sales. Dr. Aung Naing Oo, the Deputy Speaker of the Mon State Parliament has criticized the authorities for not going after the giant dealers in the drug trade.
While the State government has agreed to exercise social punishment rather than imprisonment for drug users, the practice of the KNU detaining and imposing arbitrary and heavy fines for the release of individuals has made the issue even more contentious.
Other critics suggest that any anti drug campaign will be more successful if the KNU arrests giant drug sellers rather than arresting drug users.
Comments