MNEC calls for the government to advance concrete policies and budget for mother tongue educational programs
HURFOM: On February 21, 2020, the Mon National Education Committee (MNEC) celebrated "International Mother Language Day" at the Rehmonnya Hotel, Mawlamyine, Mon State.  MNEC used the opportunity to demand that the government should adopt a concrete policy to promote mother tongue education within government schools.
"Our national schools have a policy (of exercising mother tongue languages). But we have no support from the government. Mainly, I want parliaments and government departments to acknowledge and promote mother tongue language teaching," said Nai Min Aung Zay of the MNEC.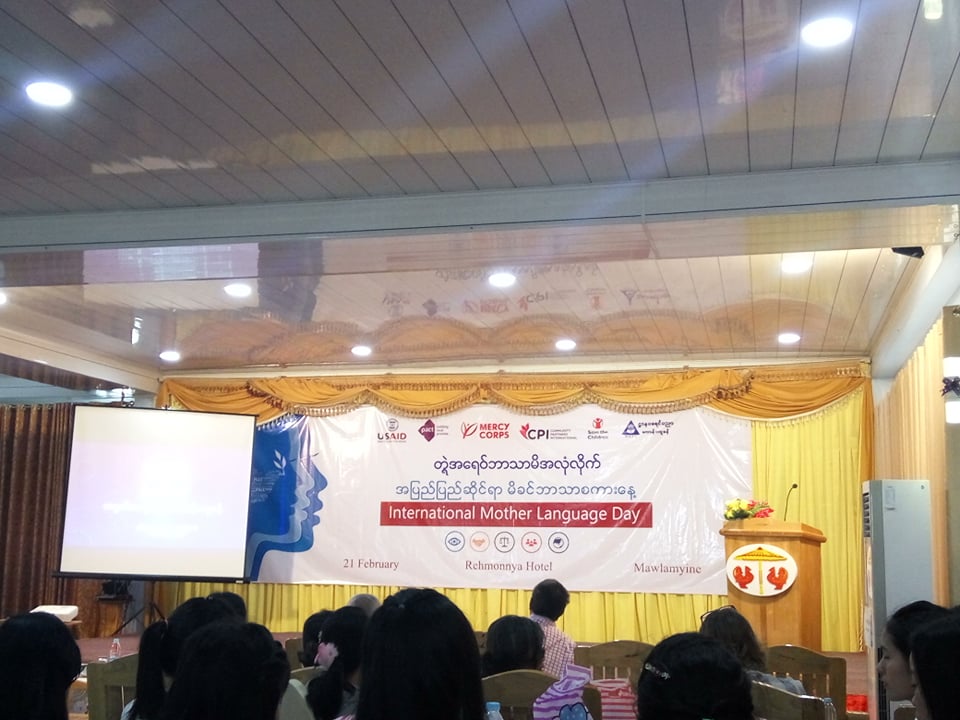 He added that children are struggling to practice and learn non-burmese languages that represent their ethnicities.
"Only government primary schools are teaching the Mon language. Parents are worrying that their children can't learn their own ethnic languages. To learn Burmese is important but the government must also have a national budget to support mother tongue education," siad Nai Min Aung Zay.
Those interested in promoting mother tongue education must turn to ordinary citizens to find financial support.
"There are about 6,000 different languages in the world but about 3,000 languages are nearly extinct. Every ethnicity is struggling to maintain their mother language. The State should be aware of this situation and must adopt a policy or a law to provide support to mother tongue education," said Dr Aung Naing Oo, the Deputy Speaker of the Mon State Parliament.
The MNEC will send a request to the Mon State Parliament, Union Parliament, New Mon State Party, Ministry of Ethnic Affairs and the Union government calling for parliamentarians to properly fund mother tongue education programs within the governmental school system.
There are 133 Mon national schools managed by the MNEC with about 25,000 students registered.
Comments