Local villagers still worried of potential armed clashes between Burmese army and the NMSP's camp in Japan Well
HURFOM: Local villagers remained frightened there may be more fighting between the New Mon State Party (NMSP) and the Tatmadaw after they and the  Border Guard Force (BGF) set up a camp just 300 yards away from New Mon State Party (NMSP) camp in Hin Thar Tine, Japan Well village, Three-Pagoda Pass, near the Thai-Myanmar Border, according to Dr. Banyar Aung Moe, a former Amyo Thar Hluttaw Representative.
"They (military) set their camp at the junction of the toll gate. They [have] not withdrawn. Therefore, the villagers are worried there will be fighting. They are frightened. If big weapon will be used, even people in Three-Pagoda Pass could not stay. Residents of Three Pagoda Pass town are also worried. Even though villagers of Japan Well village [returned to] their houses, they are ready to run away," said Dr. Banyar Aung Moe.
The school in Japan Well village has been closed since the November 26th clash broke out and the underlying conflict remains unresolved.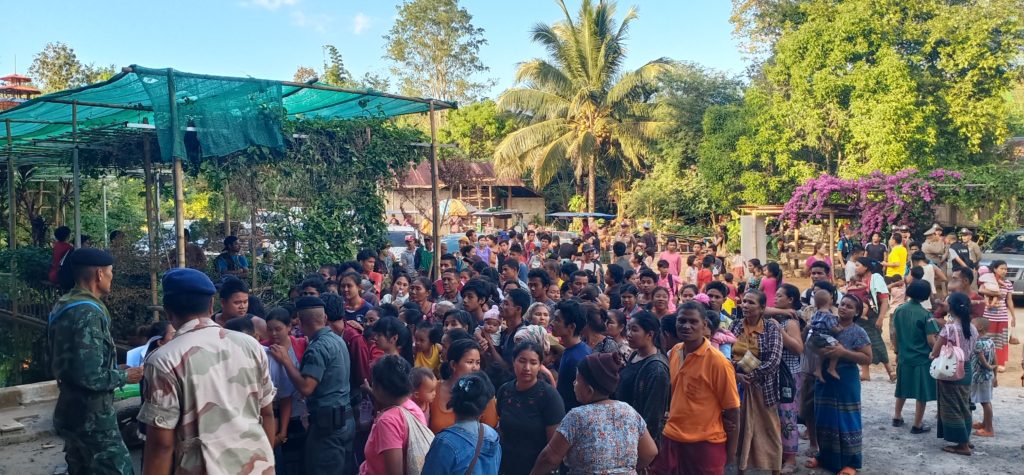 According to Nai Ong Ma Ngay, central committee member of the NMSP, "… they [the military re-established] their forces with 20 soldiers. It is not finished yet and we are negotiating to withdraw their camp. We planned to discuss [this issue] with Joint Ceasefire Monitoring (JMC) committee. We will negotiate how to resolve this problem," said Nai Ong Ma Ngay.
Although the monitoring committee is intended to negotiate and resolve problems stemming from conflicts, Nai Ong May Ngay noted the structures weak point has been implementation.
"According to JMC's procedure, there will be monitoring, investigation, review, [followed by] negotiation responses within 24 hours after fighting. All of these [steps are] included in the process but there is a weak point — that being implementing [remedial measures that] caused the problem. It should not be like that," continued Nai Ong Ma Ngay.
About thousand victims fled to Thailand from their homes when the clash between the NMSP and Tatmadaw/BGF broke out on the 26th of November 2019.
Comments