11 years on, Thanbyuzayat resident still seeking justice for military land confiscation
HURFOM: More than 11 years after his land was seized, Nai P—, a victim of land confiscation, has told HURFOM that he still hopes to one day have his land returned to him. The land in question was confiscated by Burma Artillery Regiment Command No. 315 (ARC No. 315), stationed west of Wae Kalee village, Thanbyuzayat Township, Mon State.
It was in 2008 when Lieutenant Colonel Tint Naing of ARC No. 315 confiscated plantation land adjacent to railroad tracks near Pa Nga village, Thanbyuzayat Township, that Nai P—'s lands, where he farmed 750 rubber trees, were seized.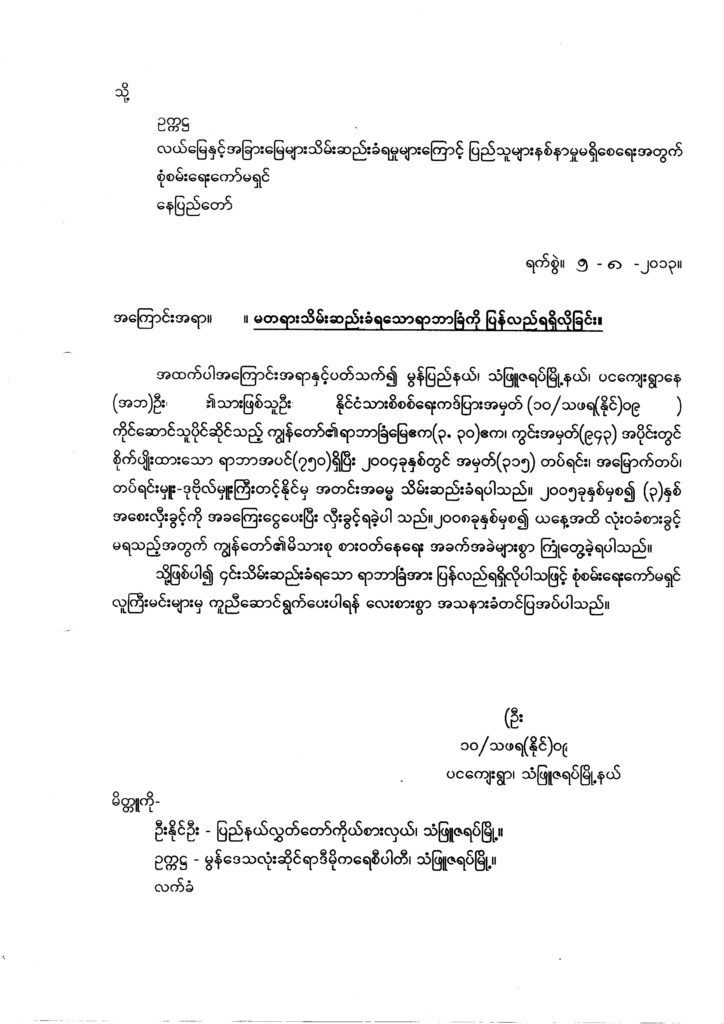 "I had only worked on my plantation for a short while when the army seized it. Once they had taken it, they allowed me to tap my trees [collect latex from rubber trees] if I payed them a tax to access the land. I've been miserable since this time. After three years of being allowed to tap my trees, they completely confiscated the land and I wasn't allowed to work on it anymore. They told me they were going to build a military base on the land, but they sold it to new owners. I watched it happen but there was nothing I could do. I reported the seizure to the authorities multiple times but nothing happened. After losing my plantation, my whole family has struggled. I lost my livelihood. If there is any possible way to get my land back, then I will try my best. I still want my land back," said Nai P—.
Recently, on April 4th 2019, State Counselor Daw Aung San Suu Kyi met with victims of land confiscation during a brief visit to Mawlamyine.
"From the aspects of justice and economy, it's correct to give back the land to the original owners. I think it's also possible to do so. The [Union] government and the [Union] parliament have been making an attempt to give the land to the original owners as soon as possible. But I want to send a message to the public openly that there are challenges to do so," remarked the State Counselor after having met with those who have had their lands confiscated by either the military or corporate interests.
"After my land was confiscated I had to work as a day laborer on other plantations. It's been hand-to-mouth living since this time…My life is difficult. My family relied on my plantation for income. My wife had to run a small noodle shop to help bring in money. Our work and our income have been unstable ever since we lost our land," continued Nai P—.
Some six years ago, on August 5th 2013, Nai P— filed a report about his stolen land with the Central Committee for Rescrutinising Confiscated Farmlands and Other Lands, based in Naypidaw. However, when the committee visited Thanbyuzayat Township (date unknown), the committee did not meet with those whose lands had been confiscated. For this reason, Nai P— and others were unable to press for justice.
As previously reported by HURFOM, between 2001 and 2004 in Thanbyuzayat Township, more than 1,500 acres of plantation lands close to Sakhan Gyi village, approximately 1,000 acres of plantation lands surrounding Wae Kalee military base, and between 400 to 600 acres of plantation lands in close proximity to ARC No. 315 were seized by the military.
Comments