Statement by HURFOM on World Environment Day
Today on World Environment Day 2018, HURFOM urges the Burma/Myanmar Government, ethnic armed organizations, corporations, and the international community to protect and preserve the environment and natural resources of Mon State and southern Burma. The livelihoods of local people depend on the conservation of this region's various ecosystems.
Farmers living in Mon State and Mon-populated areas of southern Burma are fully aware of how much they depend on clean water supplies and fertile soil for their livelihoods, which include plantations, paddy farming, and fisheries. They are the first to be affected by the overexploitation and pollution of their environment.
Today on World Environment Day we want to highlight the environmental activism that is ongoing in Mon State. We want to put a spotlight first, on one ongoing case of human rights violations, and second, on one particular way in which Mon environmental activists are fighting back against corporations' and governments' plans to exploit their human environment.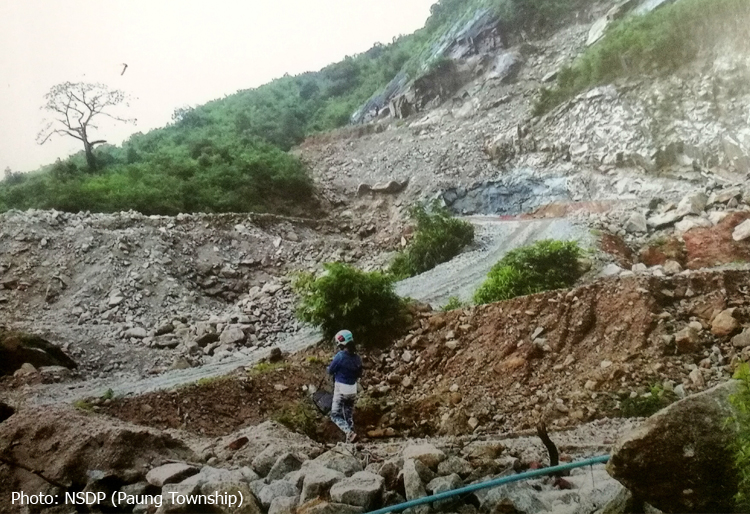 In Paung Township in Mon State, several stone mining companies have been violating local residents' human rights. After acquiring the land at below-market rates, by threatening farmers who didn't hold Land Use Certificates, their quarrying activities are now causing environmental destruction.
According to a statement from local activist Daw Zun Pan, from the Network for Social Development and Peace (NSDP), Paung Township, the most serious impacts are the loss of water resources, air pollution produced by mining, blockages of streams, deforestation, climate change, landslides, forest fragmentation, and road traffic accidents.
According to a baseline survey NSDP conducted during July and August 2017, 458 local residents who live in the vicinity of the quarries said that their rights were violated by the mining companies.
Currently, the activists are fighting to shut down three mining sites located in Kyone Ka village, Paung Township. They have submitted the findings of their impact assessments to the Ministry of Natural Resources and Environmental Conservation. The Minister Dr Min Kyi Win and authorities from the Forestry Department also already inspected these mining projects on May 26th, but still have not made any announcement yet. Many of the mining projects are located on religious land too, so many senior Buddhists are involved in the movement as well.
The villagers have blocked the roads with car tires and blocks of wood to stop the companies' trucks, which have been destroying their roads.
"We are going to have problems in the rainy season. They did not dig canals systematically so there are going to be floods. If sand and stone particles from the mining site end up in the village's water supply, the villagers will suffer," said Daw Zun Pan, a local activist.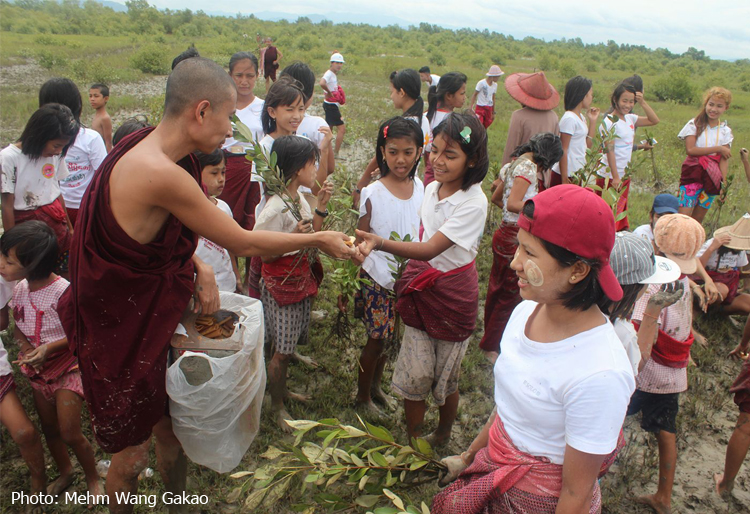 In Parlain region, Ye Township, Mon State, locals have been fighting for four years to stop a coal-fired power plant being built in Andin village. The activists have achieved, not just the suspension of the coal megaproject in 2016, but also a flowering of local interest in environmental conservation projects.
In 2014 Toyo-Thai Co. Ltd. (TTCL) announced that they would build a coal-fired power plant near Andin village, in Parlain region, Ye Township, Mon State. Parlain locals strongly opposed the project, which would see almost all of the electricity generated being exported to Thailand.
Parlain locals' battle against the coal plant has continued since 2014. One effect of this battle has been to give momentum to projects focused on conserving the surrounding environment. Parlain locals conducted research into the local ecosystems and natural resources in 2014–2015. They found that plantations, paddy farming, and fisheries were the three main livelihoods in the region. The fishing industry accounts for the most income, generating three billion kyat (US $2,248,939) per year. In the face of vocal protests, TTCL suspended the coal plant project in 2016. Last year, however, there were reports that the plans were to be revived.
Data gathered for the 2015 report has since encouraged locals to conserve mangrove forests, as they are vital to supporting their farming and fishing activities.
"The purpose of growing the mangrove forest is related to the [mega]projects. At first, people were worried about coal projects, which have had huge [environmental] impacts, so the locals have opposed it. During their campaign against coal, they researched what were the main livelihoods of the locals. They realized that the locals rely heavily on natural resources for their livelihoods. That's why they decided to grow mangrove forests to conserve their environment," said Ma Ni Mar Oo, an environment activist from Andin village.
"Mangrove forests prevent soil erosion from the river banks. And the forests benefit paddy farmers because they stop sea water from flowing into paddy fields. It also provides protection against natural disasters and produces fresh air too," said Mi Ni Mar Oo.
June 5th is the anniversary of the Stockholm Conference, where peoples and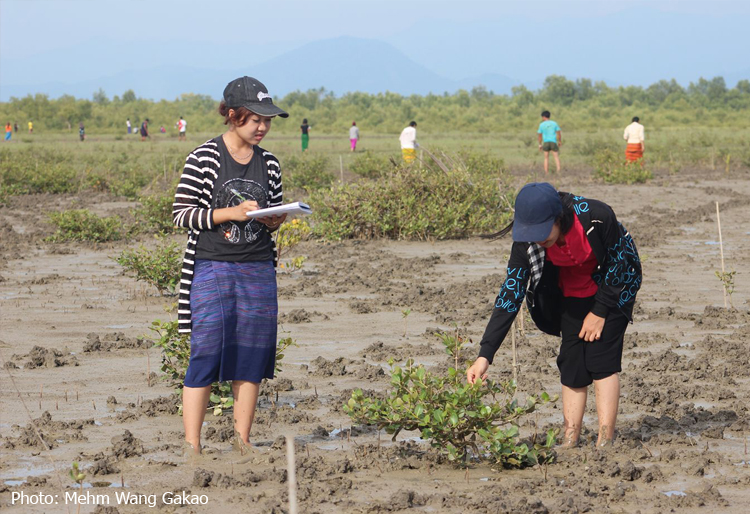 governments came together in 1972 to affirm their concern for the protection and sustainable use of the human environment.
In that spirit, and to safeguard the environment on which depend the basic human rights of future generations, HURFOM makes the following recommendations:
Government, local administration, political parties should:
Support conservation projects;
Establish an Environmental Protection Agency to take action to protect the environment;
Eliminate corruption, ensure transparency, and collaborate with local villagers in carrying out environmental impact assessments prior to project approval.
Investors active in Mon State should:
Follow responsible conduct, ensuring that free, prior, and informed consent is sought from all parties and fair compensation for land and damages is paid. Where appropriate, investors must make the effort to translate any information into the Mon language when negotiating with local people;
Coal power should be resorted to only if all other forms of generating electricity have been eliminated as viable options, and only upon consent of the local community.
The International Community should:
Call on the government to more fully commit to protecting the rights of farmers and local people in all cases;
Promote responsible conduct by all foreign investors active in the Mon State region;
Support and raise awareness of grassroots forest and wildlife conservation projects.
Comments