Controversially erupts after GAD dismisses two elected village administrators in Kyaikmayaw Township
WCRP: Two elected village administrators have been dismissed from their positions, according to a press conference on April 26th 2018 at the Southern Myanmar Journalists Network in Mawlamyine, Mon State. Mi Than Htey of Taranar village track and U Kyin Thein of Kyaik Paran village track, Kyaikmayaw Township, Mon State were accused of misbehavior in two separate events and subsequently fired.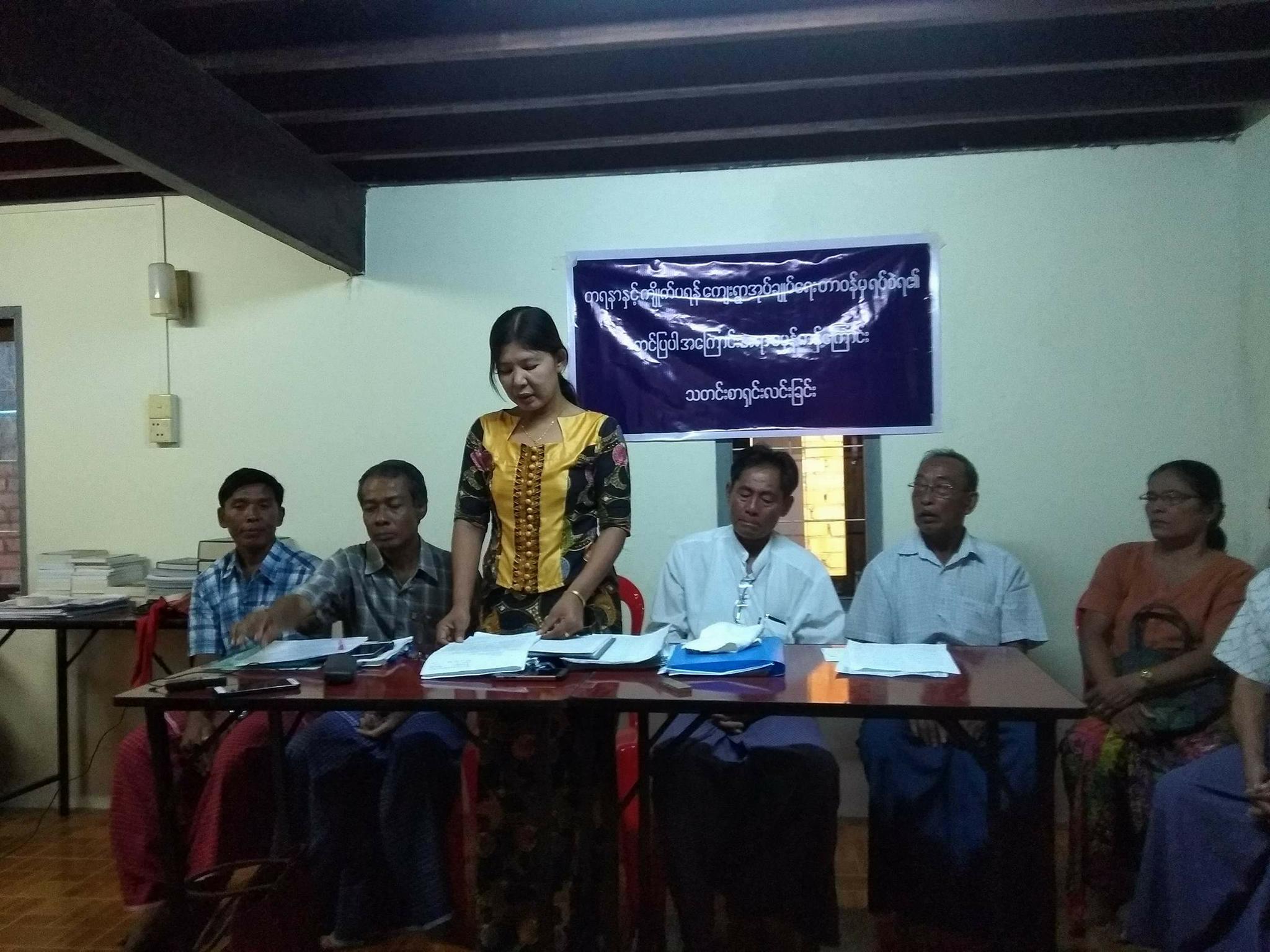 Mi Than Htey was accused of not taking enough action against U Cho, who holds US citizenship, for the destruction of a fence on a plot of land allegedly owned by U Hla Maung of Kyi Pin Zu village, Taranar village track, while behaving violently while intoxicated. Mi Than Htey says she was fired after U Hla Maung filed a report.
"It is an insult to me and I was wrongly accused. The land [on which the fence was destroyed] is not owned by U Hla Maung, but by the administration department. I didn't know U Cho holds US citizenship because nearly every house in our village has someone who works abroad. He's not a real US citizen [by birth], so I didn't send a report [to the higher-level authorities]," said Mi Than Htey.
Furthermore, U Cho was detained for 24 hours at the Taranar police hold on November 24th 2017 for destroying the fence, according to Mi Than Htey.
"The next morning, the [Kyaikmayaw] Township Immigration Officer, the Chief Officer of the Immigration Department, the [Township] Administrator, and I questioned U Cho at the Kyaikmayaw Township GAD office. Only after that did we know he has US citizenship. I returned with his visas; he didn't come back [to Mon State] illegally. I want to say that I was not derelict in reporting him. I didn't take action on U Cho because it's a case under police authority; I brought him to the police station," explained Mi Than Htey.
The plot of land fenced by U Hla Maung is owned by the government, and he was warned three times to remove his fence. Mi Than Htey has sued him under Burma Penal Code Article 420 (dishonestly inducing delivery of property).
"U Hla Maung is not a plaintiff; he is a defendant…I was fired for two reasons that were falsely reported. That's unfair. I have to suffer loss because [the higher-level authorities] only listened to the voice of the defendant," said Mi Than Htey.
She also accused the government of not supporting female administrators to overcome problems and challenges, instead only increasing the existing oppression of women.
Kyaik Paran village administrator U Kyin Thein says he was fired after being accused of misappropriating community land.
"I'm not related to the case. I don't know the agreement made between U Hla Shwe, the land seller, and U Aung Nyne, the land buyer. They bought and sold the land with their own consent. But they said a community clinic would be built on the land, and I honestly signed my agreement. I didn't buy the land to resell it after making it into land plots," explained U Kyin Thein.
U Aung Nyne, who bought the land, said, "we want to build a local clinic in our village. But if we want to buy just 200 square feet of land, no one wants to sell to us. So we had to buy the whole 2.8-acre piece of land. The clinic only needs 200 square feet of land, so we divided the land into 30×90 foot plots of land and sold five land plots for village development to build roads and bridges."
U Kyin Thein was dismissed from his position after U Hla Shwe filed a report stating that U Kyin Thein did not build the clinic, but inappropriately sold plots of land instead.
"I was wrongly accused. I think they did this to me because they were unhappy that I won the administrator election in December," said U Kyin Thein.
Locals villagers in both village tracts have stated their belief that it is inappropriate for the state government to so easily make the decision to fire the two administrators.
"The village administrators were elected by us and they were fired after being falsely accused. That shouldn't be. [The higher-level authorities] should come to our village and ask for consent from the villagers to fire someone. Now the elected administrators were fired without their voters being informed. It is unfair and there is no transparency," said a male Taranar villager who joined the conference.
Mi Than Htey is the first female village administrator in Mon State and served the government from 2015–2018. U Kyin Thein took his position in 2013 and was dismissed on April 26th 2018.
Thousands of Taranar villagers have signed a petition to request the state government reinstate their administrator Mi Than Htey.
Comments