14th Annual Mon Women's Day celebrations held in Mawlamyine
On March 9, 2017, Mon women joined together in celebration of the 14th annual Mon Women's Day held in Mawlamyine, Mon State.
The event was organized by five Mon groups, including the Mon Women's Organization (MWO); the Saytanar Foundation; the Border Health Initiative; the Mon Youth Educator Organization; and the Women's Empowerment Project.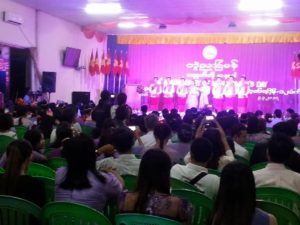 The celebrations ran all day and were attended by people from community-based organizations (CBOs) in Mawlamyine and over 200 civilians from Chaungzone Township, Mudon Township, Ye Township, Paung Township, and Kyaikmayaw Township.
"I am very happy because we are all working together for our event and some villages are also holding celebrations in their area. If we can do more [organizing and campaigning] than now we can get more women's participation [in the event]. Our women also need to prepare to be women leaders in the future," said Mi Kun Chan Non, deputy chairwoman of MWO.
Mi Kun Chan Non, spoke at the event and explained the purpose of celebrating Mon Women's Day. Mi Lwin Han from the Mon National Education Committee briefly spoke about the history of Mon Queen Shin Saw Puu during the celebrations.
A male participant at the event expressed, "I gained a lot of knowledge from this event. I think it is very important to have equal rights between males and females. I wish this not only for Mon women, but that all women in Burma may see development and success within their life."
A press statement for the event released the same day identified a number of key women's issues: women's involvement in the peace process and participation in national issues; women in leadership positions; collaboration and participation in the global fight for women's rights; and the elimination of violence against women.
In addition, the statement highlighted other issues affecting women and children in Mon State including, women and child survivors of war, increasing reports of cases of child rape due to lack of rule of law, and recent armed skirmishes in Mon State.
Comments