Deputy Speaker of the Mon State Parliament unhappy with pro-military protest
HURFOM: On January 8, 2017, the Mon State National and Charitable Associations Network organized a pro-military protest in Mawlamyine to publicly show support for the Burma Army who has been waging war in northern Burma. Approximately one thousand participants joined the protest.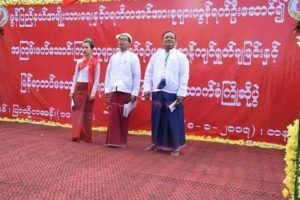 Because the protest supported the war waged by the Burmese Army arguing that it is fair and just, the Deputy Speaker of the Mon State Parliament Dr. Aung Nine Oo said he actually felt uncomfortable.
"If we want to organize a protest to support an issue or to oppose an issue, we should deeply considerate it first. Even if you support or oppose the war in our country, [you must know that] the root cause of the civil war is not just armed conflict. The main reason for the war is the conflict between the government and the indigenous ethnic [groups]. We must be clear [about the civil war]," said Dr. Aung Nine Oo.
The Northern Alliance – a coalition comprised of the Kachin Independence Army (KIA), the Ta'ang National Liberation Army (TNLA), the Arakan Army (AA), and the Myanmar National Democratic Alliance Army (MNDAA) – launched a joint offensive in Muse and Kutkai townships on November 20, after which the Burma Army began launching massive military offensives in the region.
Under the bombardment, the KIA lost some important military bases to the Burma Army. As the military seizure of these bases in northern Burma continued, pro-military protests were been organized in Rangoon, Mandalay, Mone Ywa, Pathein and Mate Thi Lar throughout December, 2016.
"Saying that the civil war waged by the [Burma] military is fair and just [provides more legitimacy to the Burma government and military's campaign and their] decision means to label members of the 'Northern Alliance' as a "terrorist group". Our politics should not be like that. All of the ethnic armed groups have emerged because of political conflicts between the [Burma] government and the ethnic groups and we must be clear about that, [that the civil war is a political problem]. That's why I have felt uncomfortable," continued the Deputy Speaker of the Mon State Parliament.
The pro-military protest in Mawlamyine was held in Hline Stadium on January 8, 2017. After hearing a pro-military speech, the protesters headed to the Than Lwin Park.
Comments