Nationals without ID cards to be denied vote in 2015 elections
Nationals without identity cards are to lose the right to vote in the upcoming 2015 election, according to Moulmein District Administrator Nai Soe Nai. This is expected to affect approximately 20,000 Mon individuals in Kyainnseikyi Township, Karen State, in addition to residents in 27 villages in Mon State's Moulmein District and various villages in northern Ye Township, Mon State.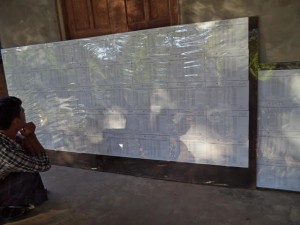 These concerns were made clear on June 7, when the national register for this year's elections was released. Alongside errors with names, due to citizens' failures to check their details on the proposed list, it also became apparent that many names were absent from the register. In some cases whole families were noted to be missing.
Nai Soe Nai discussed concerns about electoral register mistakes and omissions, given the connection between electoral registration and Mon representation in future government. "In Tenasserim Division there are over 60,000 Mon people on the list to vote" he detailed, "in this coming election we hope to have one Mon representative in the region". However, in contrast, areas where significant numbers of Mon nationals remain unregistered may risk losing out on Mon community representatives in parliament.
For those who were missing from the list, in particular those denied the right to vote due to failure to possess official ID, Nai Soe Nai stated, "They won't have the right to vote. Do the government know about this matter, or do they know but don't want to solve it? […] In my opinion, the Department of Immigration and Population should do something to solve this matter so that people have the right to vote […] If not, we will lose trust in these elections".
Comments