Rape of local girl at the hands of Infantry Battalion No. 31
On the evening of December 24, 2013, thirteen year old Mi Paroal Mon was alone at her home in Kyone Kanya village in Khaw Zar Sub-Township, when she was abducted and raped by local soldier Than Win, of Infantry Battalion No. 31 (IB No. 31), based in Khaw Zar Sub-Township, Ye Township, Mon State. Attempts to bring charges against her assailant were continually thwarted as various military personnel continually threatened, and eventually forced Mi Paroal Mon to sign a contract to conceal the fact that the assault ever took place. As Burma is working to create a more safe and transparent public space for its' citizens, such inaction and blatant impunity perpetrated by the military will hinder any hope they have of building trust between the army and the country's ethnic minority populations.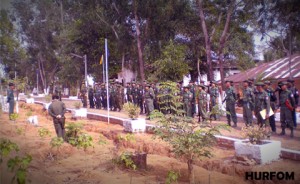 Earlier in the month, a commanding officer from IB No. 31 commissioned the victim's parents, Nai Pha Dot and Mi Kyin Wine, to construct a thatched-roof for a local military building. On the night of the attack, a neighbor witnessed Than Win, and three other men, come to the Nai Pha Dot and Mi Kyin Wine family home under the guise of collecting materials for the roof construction.
It is reported that at 7:00pm on December 24th, Mi Paroal Mon was alone at her home when she was hugged tightly from behind. Than Win and his accomplices bound the girl's hands together, and abducted her from the home. The four men brought Mi Paroal Mon to the nearby Mon National School, where Than Win proceeded to rape her.
During the investigative process, Mi Paroal Mon described in detail the events of the attack. According to one Kyone Kanya resident who attended the investigation process, "[On the] night of the incident, Mi Paroal Mon was making a roof while her parents were [out]. To carry the nypa palm, Than Win and his three men went down to Mi Paroal Mon's house around 7:00pm. The incident occurred that night. Than Win intruded the house and hugged her tightly. Then they brought her to the Mon National School and assaulted her there. The men had rope and tied her up. Only Than Win raped her while three men helped him to finish his desire".
Visibly crying, Mi Paroal Mon ran home from the school. By this time Nai Pha Dot and Mi Kyin Wine had returned to their home. As soon as they learned of the incident, Nai Pha Dot and Mi Kyin Wine went to meet with their village administrator, Nai Tun Kyi, to press charges against the four men. Nai Tun Kyi, Nai Pha Dot, Mi Kyin Wine, and other village members went to the IB No. 31 base. Upon learning the facts of the case, the base captain and other representatives from the military base, urged that the victim refrain from pressing charges. They offered Mi Paroal Mon a settlement of 500,000 kyat compensation, contingent upon Mi Paroal Mon signing an agreement to conceal the case. If she were to refuse this settlement, the military personnel threatened that Mi Paroal Mon and her family would be expelled from living in the village.
Mi Paroal Mon refused this settlement, and personally requested that her parents not accept anything the military would offer to settle the case easily. The military threatened the victim and her family to leave the village if they still had tension with the battalion. The military officers forced Mi Paroal Mon's parents to sign the contract.
As a neighbor from Kyone Kanya village views it, "…they forced Mi Paroal Mon's parents to state that Than Win was not able to rape their daughter, so it meant that [the military] forcibly concealed the case. However, the girl kept saying that Than Win did assault her. … The military has also [pressured] village administrators to settle the case".
Many Kyone Kanya village residents feel that the New Mon State Party (NMSP) should not be silent, but must intervene to ensure that IB No. 31 is judged in this and all rape cases, and that Than Win not be pardoned easily.
Village residents sent a letter to the military, urging them to take full responsibility and action for their investigative practices concerning sexual assault. The letter further urges the military to recognize the affect that victim intimidation has, as seen in Mi Paroal Mon's case, on building the peace process in Myanmar. Additionally, the victim and other villagers warned the military not to commit this kind of crime again, and to handle sexual assault cases properly. According to a local source, State Minister U Aung Min has ordered Khaw Zar police to tackle this case according to the law.
Mi Paroal Mon's community is rallying around her. Beyond the support of her family and neighbors, local community-based organizations, such as the Women and Child Rights Project (WCRP) of HURFOM are lending their voices in the call for justice. According to Mi SauhtaJo, coordinator of WCRP, the project is "trying to take the child and send [her] to Marie Stope International (MSI), [located in] Ye Township, Myanmar, for further medical check and treatment." As news of the case has spread, military and local village authorities have insisted against Mi Paroal Mon seeking further treatment. "But," promises Mi SauhtaJo, "we will continue trying for the best of the child".
Without WCRP's involvement, Mi SauhtaJo does not believe that Mi Paroal Mon's case, only the most recent in a number of sexual assault cases in Khaw Zar Sub-Township, will garner the attention of the appropriate authorities. Mi SauhtaJo fears that without proper attention Mi Paroal Mon's case will be buried, much like the October 21, 2011 case of attempted sexual assault involving a 12 year old girl in Pai Karain Khaw Zar Village, located in Mi Paroal Mon's own Khaw Zar Sub-Township. This case also involved a member of IB No.31. Justice was withheld in this case, as commanding officers of IB No. 31 ordered the girl to sign a paper stating the incident never occurred. (http://rehmonnya.org/archives/2155).
Due to the degree of notoriety Mi Paroal Mon's case has received after her family signed the concealment contract, IB No. 31 battalion commander summoned the victim, her parents, village administer, and other local villagers to meet again on January 6th. The commander questioned the victims as to who was spreading the news of the case, and again threatened the family to settle the case if they wanted to live peacefully. Command and general staff officers (G1) from Southeast Command conducted a follow-up visit to Kyone Kanya village on January 7th, to question Mi Paroal Mon, her parents, and other village members.
According to HURFOM's reports, there are 127 sexual rape cases in 10 years committed by (Light Infantry Battalion) LIB No.343, No.586, No.587, No.591, No.282, and No.273 and (Infantry Battalion) IB No.31 and No.61 which are under control of MOMC No.19 (Military Operation Management Command).
Comments