Weekly Update in HURFOM Targeted Areas [ Third Week of May 2022]
A weekly update by the Human Rights Foundation of Monland (HURFOM) on the situation on the ground. Summary data includes Mon State, Karen State and Tanintharyi region.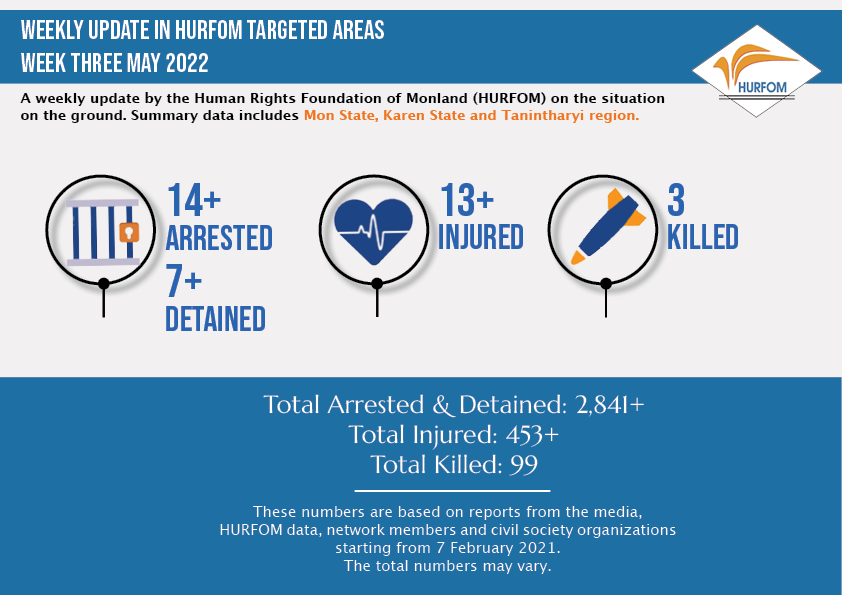 Analysis
Across the last week, civilians in HURFOM targeted areas faced additional levels of stress and uncertainty as the military junta raided homes, torched villages, and arbitrarily arrested innocent villagers. Their murderous and violent trajectory continues as calls for the international community to respond to the situation on the ground remain vocal and continuous.
Local people in Tanintharyi region were threatened with the growing presence of junta soldiers. In Laung Lone Township, villagers said the military forces from the Light Infantry Battalion No. 403, and 404 based in Thatkaw village robbed and destroyed some homes and severely beat two local women on 18 May. The junta troops reportedly broke into houses near the police station and stole the civilians' belongings in Tha-Kyet-Taw village. Possessions, money and livestock were ruthlessly looted. In addition two elderly women in the western part of the village were severely beaten for allegedly being involved in pot-banging protests. The village is being searched frequently.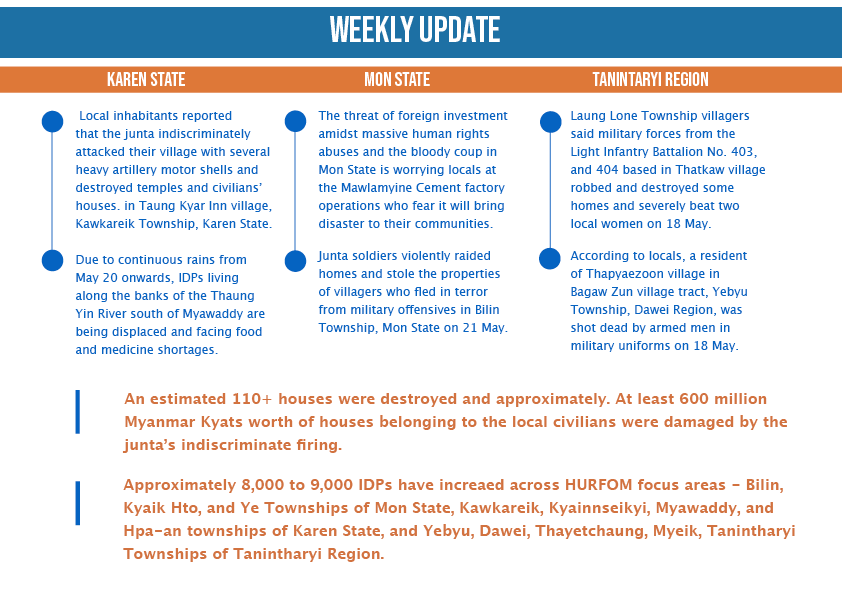 The same day in Dawei, a resident of Thapyaezoon village in Bagaw Zun village tract, Yebyu Township, was shot dead by armed men in military uniforms. At around 12:30 PM yesterday, a military truck came to the house of U Aung Aung. Five plainclothes troops with guns ran out of the military truck. Neighbors shouted when the five men surrounded Aung Aung's house. The neighbors said they heard the sounds of gunfire and later confirmed that U Aung Aung, who was shot and died on the spot. These injustices speak to the impunity the soldiers carry in every move and decision they make.
In Karen State, more airstrikes threatened the safety of civilians who have been forced to flee and seek shelter in caves. Incessant rains have also made their lives much more difficult. Internally Displaced People living along the banks of the Thaung Yin River south of Myawaddy are being displaced and facing food shortages.
Meanwhile, environmental degradation threatens Mon State's ecosystems and local civilian livelihoods. The threat of foreign investment amidst massive human rights abuses and the bloody coup is worrying locals at the Mawlamyine Cement factory operations who fear it will bring disaster to their community.
Comments