Weekly Update in HURFOM Targeted Areas [Second Week of May 2022]
HURFOM: A weekly update by the Human Rights Foundation of Monland (HURFOM) on the situation on the ground. Summary data includes Mon State, Karen State and Tanintharyi region.
Analysis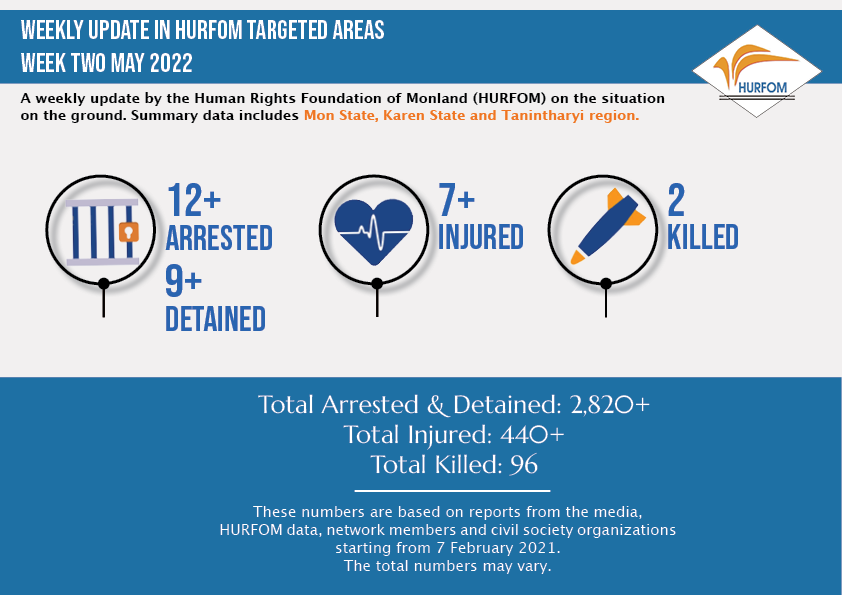 Violence in Southeastern Burma is continuing to have devastating impacts on the civilian population. The military junta and the Border Guard Forces (BGF) arrested approximately 100 local villagers and forced them to be human shields and porters at Lay Kay Kaw camp in Mon State, Beelin Township. Consequently, due to tensions between the Karen National Liberation Army (KNLA) Brigade 1 and the joint forces of junta and BGF, more than 12,000 local people in Beelin Township, Mon State have been forced to flee. In Dawei Region alone, another 4000 local villagers fled and in Kyainnseikyi township, Karen State, about 2,500 to 3,000 villagers left their home to seek refuge in safer places in Brigade No. 6 areas.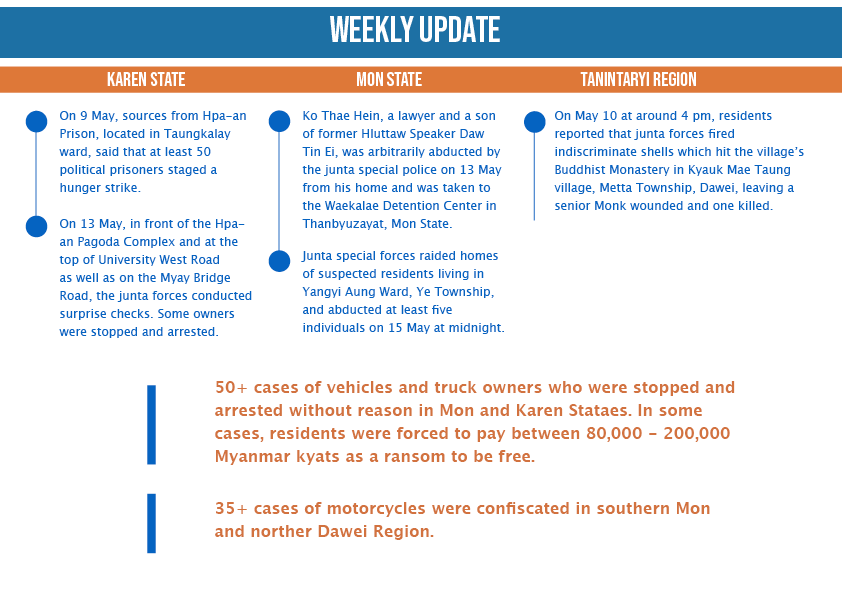 Fighting in the Dawei region has also displaced innocent civilians and threatened their livelihoods. On May 10 at around 4PM, residents reported that junta forces fired indiscriminate shells which hit the village's Buddhist Monastery in Kyauk Mae Taung village, Metta Township, Dawei, leaving a senior monk wounded and one killed. The sound of the explosion shook the ground. The junta fired several shells and one hit struck the monastery. An abbot was injured on his back. One innocent villager, about 40 years old, was confirmed dead.
And yet, despite the extraordinary risks people face in their everyday lives, protests are ongoing and open disdain for the military junta is clear. Sources from Hpa-an Prison, located in Taung Kalay ward, said that at least 50 political prisoners staged a hunger strike. It was organized in opposition to human rights violations being committed by the junta.
Brave civilians in Long Lone Township are also still pursuing peaceful protests despite grave danger and numerous challenges. On the morning of 10 May, hundreds of protesters demonstrated against the military dictatorship to show their defiance. About six peaceful protests in total were launched by the local civilians in the northern Dawei Region.
Comments