Mon National Education Committee ends its reliance on the Ministry of Education
HURFOM: For years, the Mon National Education Committee (MNEC) had been cooperating with the Burma Ministry of Education to provide educational services to the Mon community.
More recently, things have changed. The committee has lost trust with the Ministry, which has been under military control since the coup, and has publicly stated they no longer want to rely on the State education system to serve Mon students.
In response the MNEC has established a Mon National College.
"We will no longer rely only on the State education system. It isn't enough for us. That's why we have to start the Mon National College. We have to move on with what we have. We will collect lessons and will go for the next step," said an MNEC official.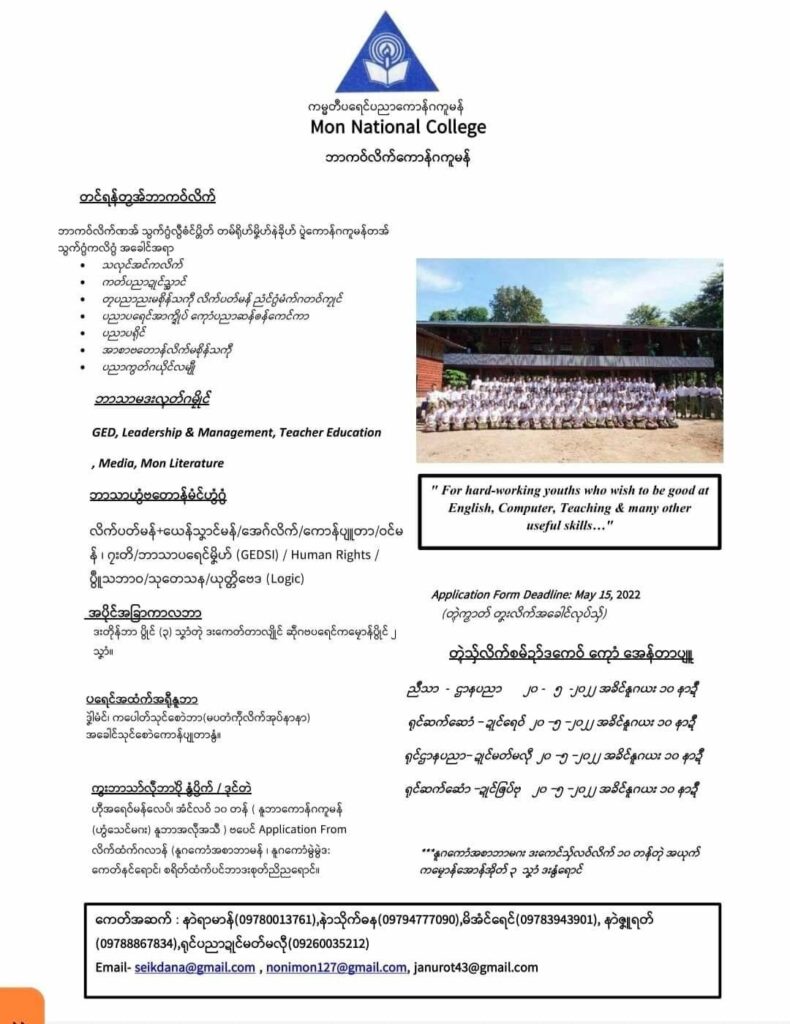 The Mon National College, although quite new, has already accepted applications for its first batch of students.
"The college will provide three academic years. Those who finish their education must serve (with the Mon education/affairs group) for at least for two years. The college will provide on-the-job training. It isn't a "parrot learning system". We're planning that after finishing their college programs, the students will be ready for work," added the MNEC official.
The academic program will offer Graduate Equivalency Degrees (GEDs), and courses in Leadership & Management, Computing, Teacher Education, and Media and Mon Literature. Students will be required to study Mon culture, the environment, human rights issues, as well as Gender Equality, Disability and Social Inclusion (GEDSI).
Those who have applied for the Mon National College must sit for the entrance exam and will be interviewed at one of three locations. These include i) the MNEC Headquarters located in the Nyi Sar region which is controlled by the New Mon State Party(MNSP). ii) The MNEC office in Mawlamyine and iii) the NMSP Liaison Office in Thanbyuzayat and Ye Township on May 20, 2022.
Comments