Weekly Update in HURFOM Targeted Areas [Week One: May 2022]
HURFOM: A weekly update by the Human Rights Foundation of Monland (HURFOM) on the situation on the ground. Summary data includes Mon State, Karen State and Tanintharyi region.
Analysis
In the many months which have passed since the Burma Army attempted to seize power through their failed coup, the people continue to suffer the most. In HURFOM target areas, field workers have reported rising cases of arbitrary arrest and detainment of prominent activists and rights defenders. Innocent villagers caught in the crossfire of violence have lost their lives to indiscriminate firing and shelling, as well as air and ground strikes that are unrelenting.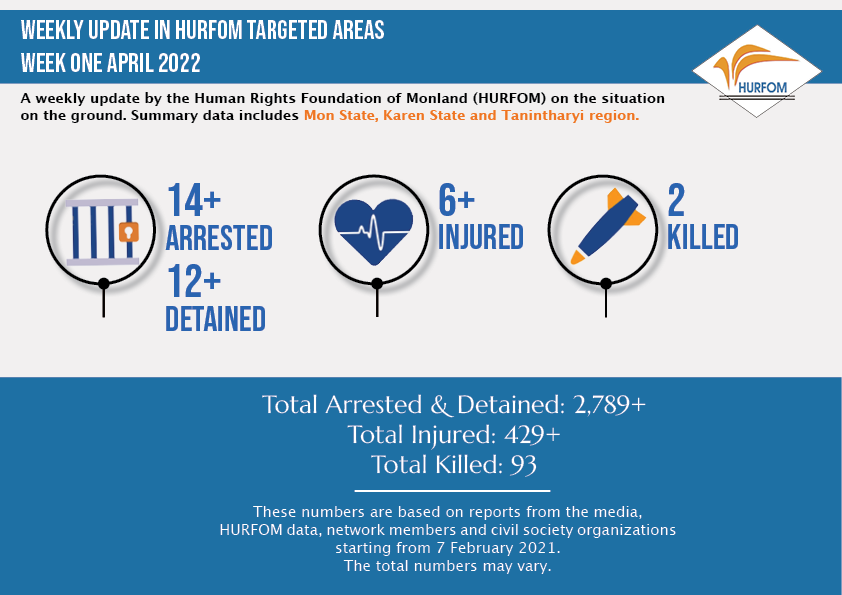 On 29 April, another series of aerial attacks was reported in Mutraw District, Karen State which sent villagers fleeing once again for their lives. HURFOM estimated that over the last week, another 500 people were forcibly displaced in Kyainn Seikyi township, Karen State. In Kawkareik Township, more arrests were reported about young people being detained and interrogated. Residents said that even some hundi (informal money transfer services) business owners were having their shops raided, and were then abducted by the junta and their special-backed forces and security branches. Eight hundi businesses were raided and the owners arrested in Dawei region and Mon State. There was financial and property confiscation worth up to 50 million kyats (estimated from all hundi businesses) in target areas. This is unlawful and speaks to the levels of corruption which the military junta is capable of.
Locals also reported that the junta arrested at least 70 male villagers and travelers were forced to be porters and carry ammunition, rice bags and supplies in Kyaikmayaw Township, Mon State. They set off towards Khale Tagondai village, Kyainnseikyi Township, Karen State where the fighting broke out between the Karen National Liberation Army.
HURFOM emphasizes our calls for justice and accountability which are long overdue in Burma. These atrocities demand urgent action.
Comments