Weekly update on situation in Karen, Mon & Dawei since the coup
First Week of September 2021
HURFOM, Mawlamyine: A 27yr old pregnant woman was killed by the junta and a journalist from Dawei was arrested. 'Stop & frisk' tactics are ongoing as youth are targeted.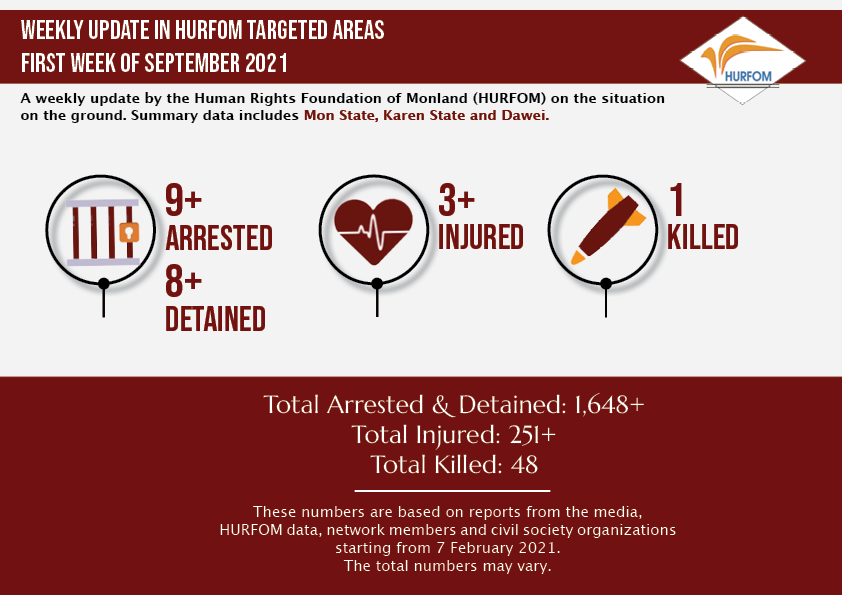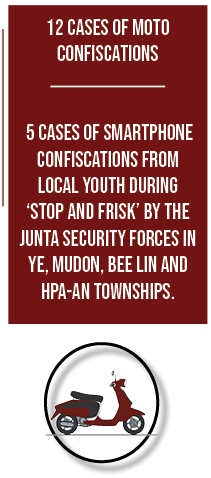 Full Analysis:
Over the last week, HURFOM fieldworkers documented more arbitrary arrests, detentions and the unlawful death of Ma Ei The Moe; a 27 year old pregnant woman and mother of one child. She was killed by junta security troops in Ka-Dike village, Paung Township, Mon State on the evening of September 1st. Her husband suffered from severe injuries as well. Impunity and a lack of accountability channels undermine any justice referral pathway for her family.
Security Forces abducted three men in Thaton Prison while they were visiting their detained friend during prison hours on September 1st when they too were detained. Their arrests were followed with many questions as the reason remains unknown. Youth continue to be targeted by the illegal junta for their involvement in the pro-democracy movement.
Zaw Moe Oo, a News Stringer from Eleven Media Agency based in Myeik, was abducted by the Junta Security forces from his home on the morning of September 1st. He is the fourth journalist to be arrested since the coup in Tanintharyi Region. The military has taken additional steps to penalize the press including amending laws in the Penal Code which attempt to discredit and vilify journalists.
Mass protests, guerrilla protests in Dawei, Thayet Chaung, and Long Lone are ongoing. They take place almost every day with approximately six events taking place over the last week.
Comments