Senior member of the NLD in Thaton attempts extortion over an insult to the party logo.
HURFOM: On October 4, 2020, an 11-year-old was preparing to support the National League for Democracy (NLD)'s election campaign in Ka Dike Kyi village, Thaton Township, Mon State. 
The child's grandmother tried to stop her because of worries about Covid-19.
The grandmother used an insult directed at the NLD logo.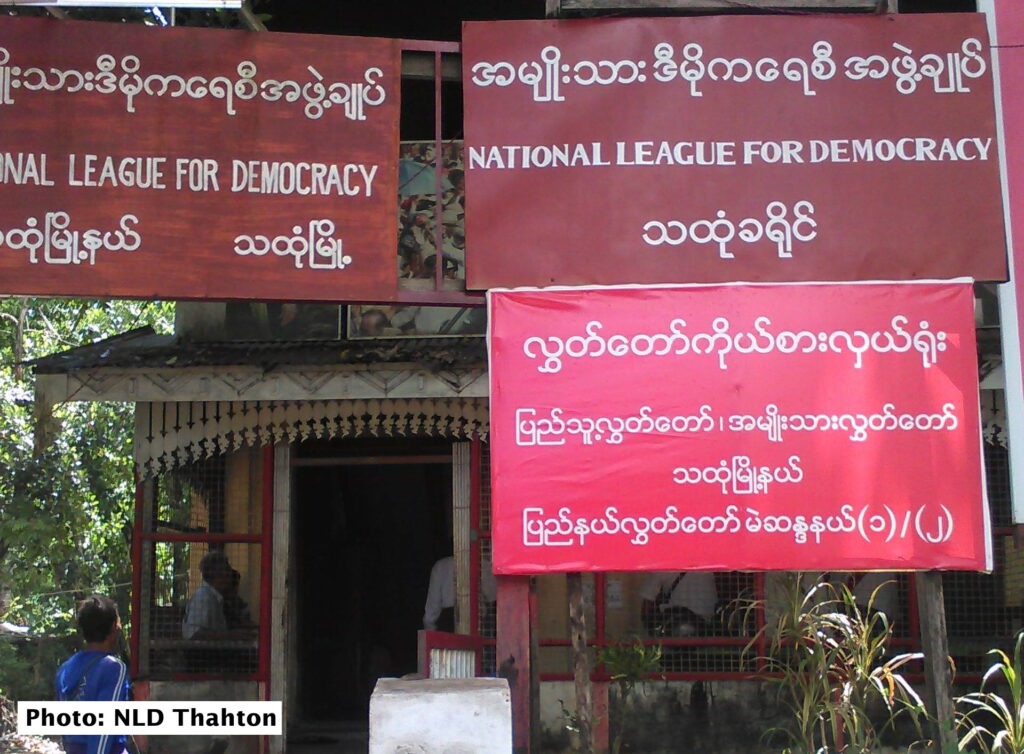 A member of the Thaton NLD, who overheard the exchange reported the incident to the party's Central Executive Committee Member, Ko Ye Tun, who then tried to intimidate and extort the grandmother.
"I was angry with my granddaughter, and shouted at her "Just put the headband (with the NLD's logo) into your ass". In the evening, one of my neighbors said that NLD CEC member, Ko Ye Tun reported me to the Administrator," said the grandmother.
After being reported to the Administrator, the grandmother apologized for her statement at the village Administrator's office.
A family member reported that, "When my elder sister apologized to him, he said, she can be jailed because of her abusive words. She was afraid, and said she would accept any monetary or physical punishment. Then he said, she must pay one million Kyat. He continued the money wasn't for his personal use but for the party's fund."
This was not possible for the grandmother, but Ko Ye Tun agreed to accept 600,000 Kyat.
"When the NLD Chairperson asked Ko Ye Tun, he said he didn't ask for the money. But the villagers who came with me said he did, and he finally confessed to the extortion. The 600,000 Kyat hasn't been paid yet," reported a family member.
HURFOM contacted Ko Ye Tun, and the Thaton NLD's Chairperson for a comment, but neither responded.
Thaton NLD's Chairperson, Daw Mar Mar Khine confirmed to the ThanLwin Times the incident did occur, and they would further investigate the attempted extortion.
Comments