NLD village Secretary cites defamation citing Section 66(d) of the Telecommunications law
HURFOM: On October 3, 2020, U Nyne Nyne Win, a village Secretary with the National League for Democracy (NLD) for Ka Ma Nam village, Chaung Zone Township, Mon State, initiated a lawsuit against Facebook user, Mi Htaw Mon, aka Mi Thin Htay Mon.  
The legal action cites Myanmar's Telecommunications Law specifically section 66 (d) declaring that Mi Thin Htay Mon's social media post was defamatory of the NLD and its election candidates.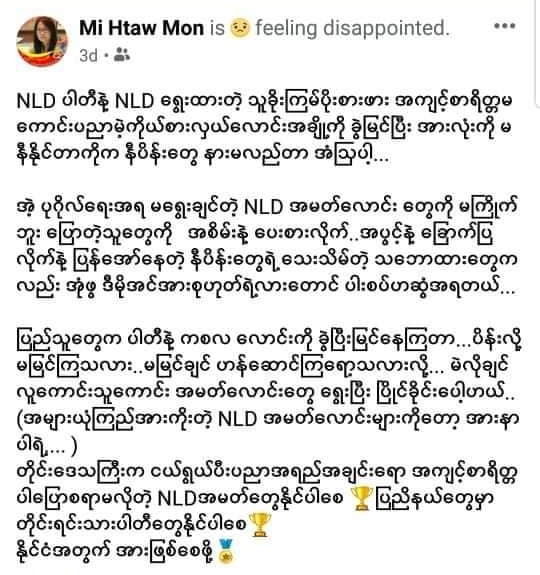 Section 66(d) of the 2013 Telecommunications Law provides for up to three years in prison for "extorting, coercing, restraining wrongfully, defaming, disturbing, causing undue influence or threatening any person using a telecommunications network."
This law has been controversial as it opened the door to a wave of criminal prosecutions of individuals for peaceful communications on Facebook and has increasingly been used to stifle criticism of the authorities. According to a report from a Human Right Watch 2013 Telecommunications Research Group, which had been documenting prosecutions under Section 66(d), at that time, at least 71 people were known to have been charged for online defamation under the law.
The Chaung Zone Police Station summoned Mi Htaw Mon on October 4.
"U Nyne Nyne Win has sued me because of my post. The police will check if I breached the law or not, and if I am found guilty, I'll go on trial. The police have seized my phone at the moment. Now I'm released on bail, after someone signed a guarantee document for me." said Mi Htaw Mon.
Mi Htaw Mon explained that she had no intention to defame the NLD or its election candidates, and believes her action does not breach section 66D.
"I'm ready to defend [myself] against the accusation. They think there is no one above them and they do what they like. … people are aware that they abuse this power," continued Mi Htaw Mon.
HURFOM contacted U Nyne Nyen Win, but he had no comment to offer on the matter.
Comments