Infectious disease don't scare empty stomachs
HURFOM: "If I can go abroad for work, I won't have many problems. [But for now] I have to tolerate it as there is a travel ban. My eldest son and I will go to Malaysia for work as soon as the travel ban is lifted," murmured Daw Ohmar to herself.
Daw Ohmar is a quiet spoken mother of two and recently divorced. She has been struggling to pay off a debt borrowed during her marriage. Her former husband refused to repay the debt and does not provide any support to their two children.
"I have to take care of the two children. The elder one already took his matriculation exam and the younger one is in Grade #3. Hearing about our divorce, the lenders have come to me to ask for their money. It really upsets me. I've felt depressed so sometimes, I want to commit suicide," said Daw Ohmar.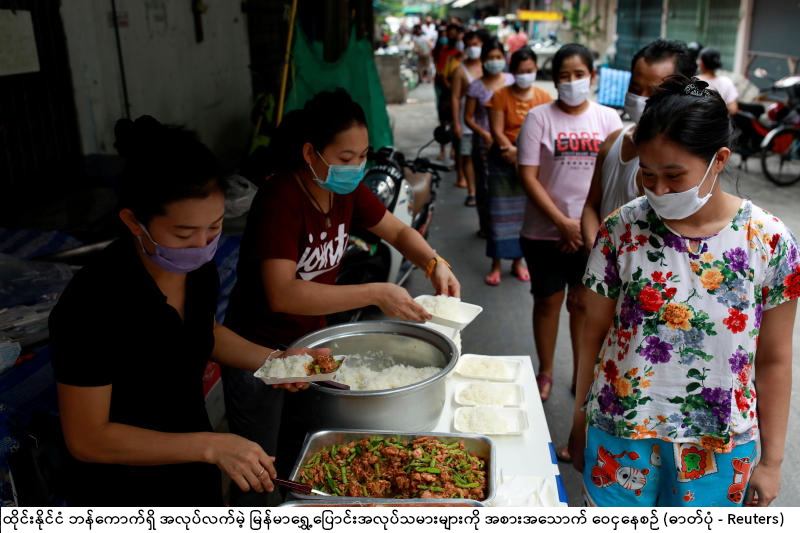 These are very challenging times. According to media reports, between May and June, 2020, five Burmese migrant workers in Malaysia committed suicide due to unemployment and livelihood hardship related to COVID-19.
Due to the spread of COVID-19, countries around the world have imposed travel bans and many have closed factories and workplaces. Mon people who have been working in neighboring countries have lost jobs and face financial hardship. Remittances sent to family members left behind, are also facing hardship as they often rely on money sent from home from those working abroad.
"My husband can't send money for two months. I have a problem feeding my three children. No one wants to give a loan during this time. Now school is about to open and I have to buy school uniforms for my children. We have to struggle like this during this COVID-19. It's not only me but people in the whole world," said a mother of three.
The financial difficulties are being felt on both sides of borders. "Don't say about sending money back to my parents. I don't even have money for food. Life is really tough," said another undocumented worker base in Malaysia.
While registered migrant workers are able to receive some supports from the governments of the countries they are working, undocumented migrant workers receive nothing. Their status also makes them vulnerable to arrest and further exploitation.
"I can't go to work and have to stay at my hostel for two months. But the government has paid 75 percent of my salary when my boss pays 25 percent. But not every boss is the same. If you have a good boss, you will get full support," said a registered Mon worker in Singapore.
But an undocumented worker in Malaysia said, "The government has paid 250 ringgit and provides rice and cooking oil to migrant workers who hold a work permit. But those who don't have work permits have received nothing and even their bosses haven't taken care of them. They're neglected."
Many Burmese nationals working abroad are undocumented. Thailand has an estimated 2 million undocumented Burmese migrant workers. All of them have lost their jobs due to COVID-19.
On February 28, 2020, The Myanmar Ministry of Health and Sports announced measures to help mitigate the spread of COVID-19. These measures have included a travel ban, closure of factories and workplaces and restricted public gatherings.
In addition to public health concerns, many people have lost jobs and are experiencing increasing financial and livelihood hardships. Despite the burden of the virus, people are eager to return to work.
"If the travel ban hasn't been lifted when the farming season starts, I'll work as a hired farm laborer," said Daw Ohmar.
Comments