Women narratives: the life of a refugee
WCRP: Her alias is Naw La Marn and she is 31 years old. She has two sons (nine and twelve) and a six-year-old daughter. She grew up in the village of Kyaut Pyat in Kawkareik Township, Karen State, where she worked on a farm in her youth. But when Naw La Marn was 14, her family left home and never returned. When she married at age 18, the wedding was held in a refugee camp.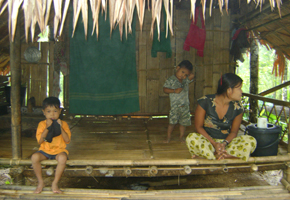 There are nine refugee camps along the Thai-Burmese border, in towns like Mae Hong Son, Mae Sot, Mae Sariang, and Sangkhlaburi. They are home to refugees displaced by war, economic hardship, and Burmese military assaults on ethnic areas. Women struggle to protect their families and to confront the instability of refugee life, but many remain hopeful that change will come.
In 1993, fighting between Karen and Burmese soldiers in Kyine Tone Township caused the local people, including Naw La Marn and her family, to flee their villages. Naw La Marn's family first arrived in Ka Li Ka Tha resettlement camp in Mae Sot and lived there for two years, after which they were moved to Nu Po camp for another two years.  Next they spent three years in Moe Kae camp, but when the camp was destroyed, they had to relocate to Umphiem camp. Naw La Marn and her family are still there today, twelve years later.
Naw La Marn's husband works on a farm near Umphiem to earn extra income, bringing in 130 baht per day. She said, "As long as my husband has a job, we do not need to worry about food because his salary fills the gap between what we are given by the camp and what we need to feed the family. There were times when my husband did not have a job and it was so difficult for my family to live in the camp."
When she first arrived, Naw La Marn did not know she could apply for a UN refugee card to pursue asylum in another country. When UNHCR came to the camp to register refugees, she did not enroll. When she later saw refugees being relocated to a "third country," she asked them how they did it, and realized the missed opportunity. Unfortunately, when UNHCR came for another round of card registrations, her husband was not home and the chance was lost again.
Refugees have to register and subsequently interview with UNHCR to receive a UN refugee identification card. Even if people are living in the camp, without a refugee card, UNHCR does not acknowledge their refugee status. It is a crucial first step to obtain a UN refugee card before camp residents can hope to be relocated to a third country.
Naw La Marn reported that sometimes she feels like her family's lives are meaningless because she does not know what will happen in their futures. She has lived in camp for a long time, but still has no idea when she will be able to leave.
According to a WCRP reporter who interviewed refugees, most who live in the camps have varying dreams but dampened hopes. Some want to move to a third country to do business, because they believe Burma does not have enough jobs for its citizen or returned refugees. Some want to move to seek better education and health services than Burma has to offer. Others just hope to receive education for themselves and their children, wherever they can get it.
One Karen woman who has lived in Umphiem camp for four years said, "I am from Pa-an Township, Karen state. I came here because of economic problems. I have four daughters and two sons. I left our village twelve years ago and arrived in Umphiem camp in 2009. We are very poor and if we lived in Burma we could not afford my children's education. Before, my husband and I worked as day workers and made just enough to feed the family. In Burma, education costs are very high, so we want to be relocated to a third country."
A 17-year-old girl living in Mae La camp for four years said, "Our hope is to be relocated to a third country where we can get an education and learn business skills before we go back to Burma. Even though we want to return eventually, if we go back now we will definitely face problems because we have nowhere to live and no work to do. We want to improve our chances to have a good life when we go back to our mother country."
A 35-year-old Mon woman from Ban Don Yang camp near Sangkhlaburi in Kanchanaburi province explained, "I am from Yin Ye village, Southern Ye Township, Mon state. I have a 5-year-old daughter. In my village, the armed ethnic groups and Burmese soldiers were always fighting with each other, so we left in 2007. I hear that Burma is changing but I do not trust the government and don't want to go back. I worry for my daughter's future."
Naw La Marn, now going on her nineteenth year as a refugee, said, "If I have the chance to leave I will go with my family, but don't want to be separated from them. Although I have not received any information about relocation, and we do not know if they will allow us to go, I still have hope for my children's education and futures. I do not want to give up."
Comments