HURFOM: According to the Mon State Chief Minister Dr. Aye Zan, October 31st 2017 is the final deadline for small and medium-sized enterprises (SMEs) related to the rubber industry to submit their Environmental Management Plan (EMP) reports. The chief minister set the deadline after the Mon State government met with several SME owners on October 9th 2017. Read more
HURFOM: On October 15th 2017, a local election for village headman was held in Karotepi village, Thanbyuzayat Township, Mon State, and local villagers have accused the former village headman, Nai Cartoon, with interfering in the election process in order to ensure the election of his party's successor. Read more
HURFOM Serious crimes such as those related to the drug trade can be reduced or dismissed by bribing authorities with a small fortune, according to a local in southern Ye Township, Mon State.
"The police arrested my nephew for having seven pills of methamphetamine. [But] he is just a real user, [not a trafficker]. They had to bribe the doctor who did the urine drug test in order to make the test negative. As the police and the doctor were working in cooperation, [they had to bribe them] more than 1.5 million kyat (US $1,110.98). The crime of using drugs can be dismissed like this," said Nai O— from R Ru Tong village, southern Ye Township, Mon State. Read more
Locals in coastal areas of Ye Township are reporting that the rampant rumors and fake news spreading on social media surrounding the illegal immigration of Muslims and potential terrorist attacks in Mon State are hurting tourism and the local economy. Villagers report that most of the restaurants in Kabyarwa Beach — located 27 km from Ye City in southern Mon State — are closed due to the lack of visitors. Read more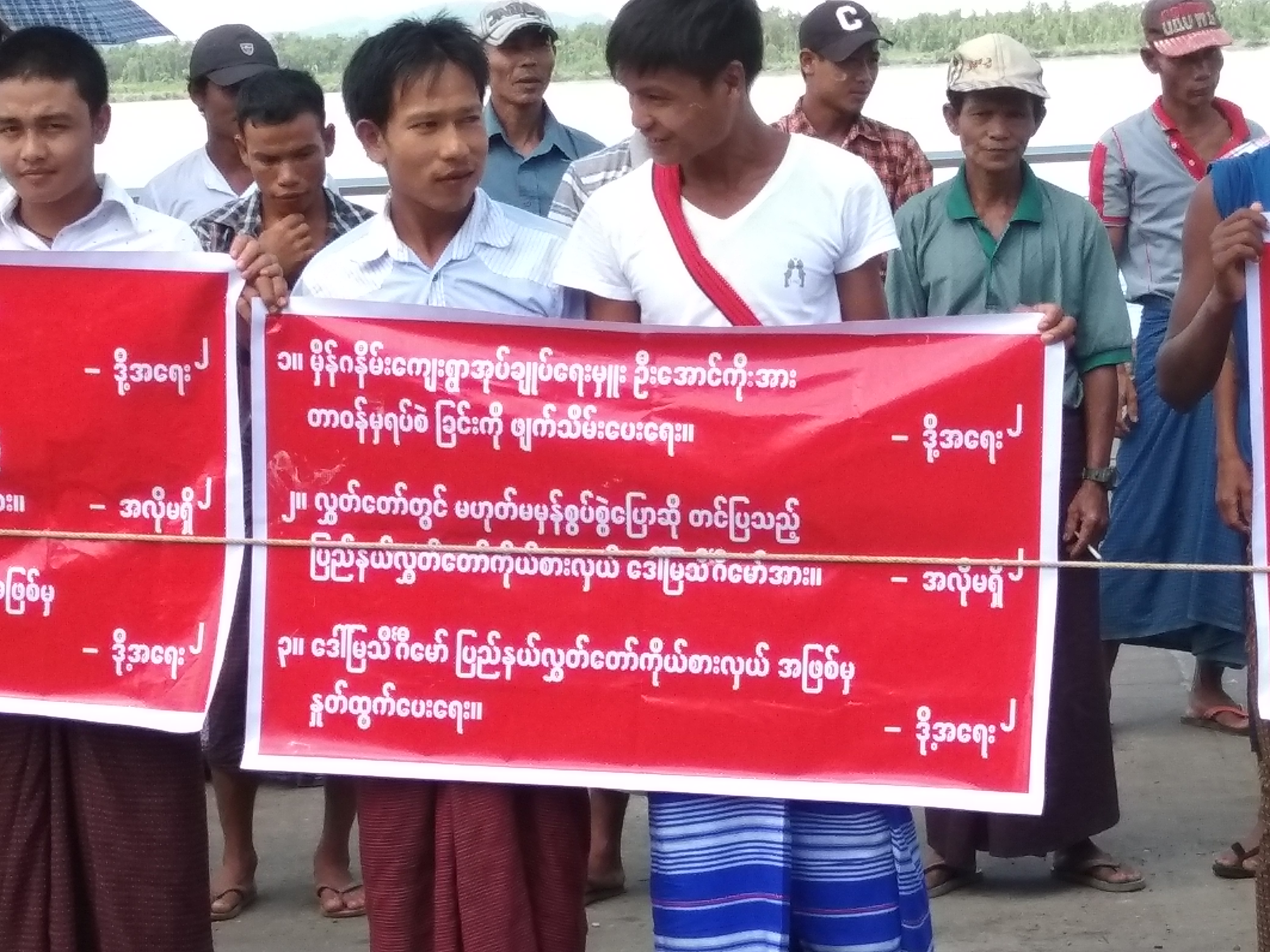 On September 21st 2017, locals organized two protests in HmameKaNane village and Mawlamyine in Mon Stateto voice their displeasure over the dismissal of HmameKaNane village administrator U Aung Ko from his position.Protesters areunhappy with the authority's decision to fire U Aung Ko, citing a lack of due process.
"There was no proper investigation. [Our administrator] was dismissed after a member of parliament submitted a proposal. We are not satisfied[with the process], so we've organized protests," said Daw Than Aye, a local protester.
U Aung Ko's dismissal came after Mon State Member of Parliament (MP) Daw Mya Thein Gee Maw (Mudon) proposed the termination of his duties, accusing him of corruption,selling public land for his own profit, and holding a bias. Protesters from Hmame Ka Nane village disagree with the MP's accusations and want justice for their administrator.
"People don't know exactly why [the administrator] was dismissed. If there is a report that the administrator abused public land and was involved in corruption, there must be an investigation at the ground level. Removing an administrator without any proper investigation is just an abuse," said U Maung Aye, a resident of HmameKaNane village.
Village Administrator U Aung Ko said he received the letter of dismissal on September 14th 2017, but did not know why he was removed from his position.
"I had to sign warning letters two times in the presence of the township administrator. The first time was for that I was weak in performing my duties and the second time was for that I yelled at a villager who accused me of having a bias when providing development funds to villagers," said U Aung Ko.
However, in response U Myint Than Win, Office Director of the Mon State Government, said after receiving a proposal from MP Daw Mya Thein Gee Maw to take action on HmameKaNane Administrator U Aung Ko, he instructed the district administrator to conduct an investigation and submit a report. According to U Myint Than Win, it was found that HmameKaNane Administrator U Aung Ko did not respect his colleagues in the Mon State Parliament, performed weakly in his duties, showed little cooperation with villagers and prominent persons in the village, and had many complaint letters filed against him. Therefore, the district administrator had reported that U Aung Ko was unfit for his position.
"We can't dismiss a village administrator as we wish. We have been investigating the HmameKaNane case for a long time," said U Myint Than Win.
Since Mon State Chief Minister Dr. Aye Zan took office earlier this year, ten village administrators have been investigated for alleged misconduct. Eight of them have already been dismissed and two are still under investigation.
Farmers in Jone Paw village near Ye City, Ye Township, Mon State are upset that Burma Army Light Infantry Battalion (LIB) #586 has been clearing confiscated rubber plantations and selling the wood. According to reports, four plantations have already been destroyed.
"The military cut the trees and sold them without any notification to the owners. The military said that they cut the plants as they were no longer productive, but all my plants are good. They have already cut 1,000 plants from my farm," said Daw Ngwe Pin, a local rubber farmer. Read more
On August 26th 2017, a 17-year-old man attempted to rape an 11-year-old school girl in the An Na War Quarter of Ye City, Ye Township, Mon State. The girl's grandmother reported the case to the Ye City Police the next day.
On the evening of the incident, the girl's grandparents were sleeping in their bedroom, while their son, their 12-year-old grandson, and the 11-year-old girl were sleeping in the front of the house. The grandmother was awoken when her brother living in the house next to them began shouting her name around 1 am in the morning. Upon rising the grandmother saw the door to the house was open. The grandmother then heard shouting from her granddaughter and exited the house to find the girl outside without any pants. Read more
HURFOM: According to reports, on August 10th 2017, around 70 Burmese military troops were ordered back from the New Mon State Party (NMSP) controlled Kanbauk village area in Kyar Inn Seik Kyi Township, Karen State, leaving approximately 30 active Burmese Army troops. Despite the withdrawal of the troops, worry of future conflict still remains among villagers.
"On the evening of August 10th the Burmese troops went back. But [we worry] they will come back again. We can't stay calm even though there is no more [Burmese Army] troops coming into our region. We're worrying that they [NMSP and the Burmese Army] will fight each other again like in the past," said Nai Jel Toi Nai of Kyar Inn Seik Kyi Township. Read more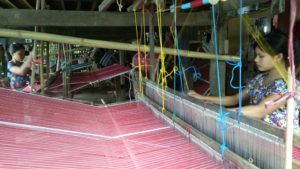 HURFOM: Traditional weaving businesses in Mudon Township are struggling to survive due to declining profitability with the influx of modern weaving technology.
"Nowadays, traditional weaving businesses cannot compete with modern weaving machines, so they will gradually disappear. We are stuck with this job because we can't do other work and don't have enough money to invest in another business. Even if it isn't profitable enough, this is all we can do [for our livelihoods]. After paying wages to workers, only enough for our meals is left for us. It's impossible to do traditional weaving as a long-term business. The world is changing everyday," said a weaver from Kyaik Roi. Read more
HURFOM: On August 19th 2017, Bedok Construction and Engineering Co., Ltd. (BCE) organized a public consultation meeting with local community members in the Rehmonnya Monastery in Lamine, southern Ye Township, Mon State. Company officials, member of Mon State Parliament Dr Min Soe Linn, the village administrators of Lamine Sub-township, as well as local villagers joined the meeting to discuss about providing electricity in their regions. Read more