Returnees must report to the authorities to slow COVID-19 infection rates
HURFOM: Due to the spread of COVID-19, the Kyaikmayaw township and village level General Administration Department (GAD) and Township Public Health Department are cooperating to develop a list of returnees to Myanmar from foreign countries.   The intent is to be able to conduct a medical check on these individuals. Health authorities are insisting returnees must follow a strict home quarantine for 14 days, in order to prevent the infection from spreading further and faster, throughout the country.
"If those who returned from foreign countries have symptoms, such as a fever and cough, they must be brought to the nearest hospital and they must stay separated from their family members. We're giving these instructions while collecting the list of returnees. Returnees must be in a strict home quarantine for 14 days. We also put a notice that those who returned via illegal routes must report to their village administration. We urge villagers that if they are aware of illegal returnees, they must report this to the authorities," said U Kyaw Myint, the Chief of Kyaikmayaw Township GAD.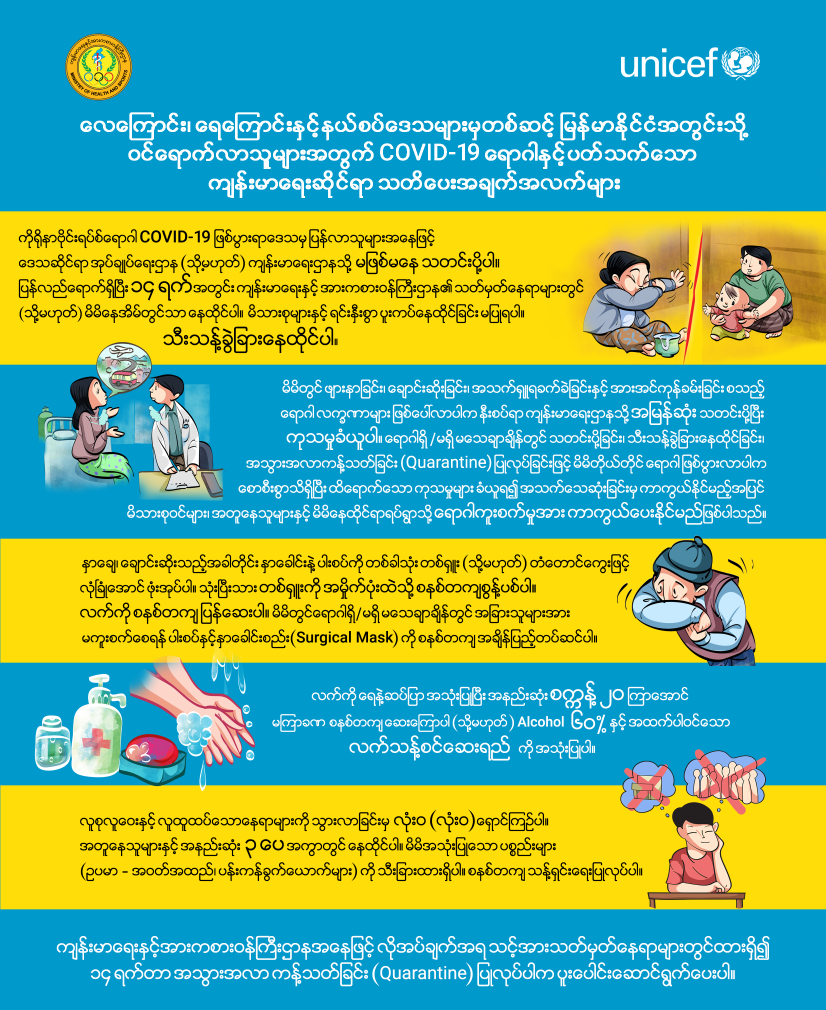 On March 24, there were more than 4,500 returnees from Thailand and 643 of them returned to Mon State.
A Mon State government led group, including the Karen Ethnic Affairs Minister, Saw Aung Myint Kine went to Myawady to bring back returnees.
"Among those returnees brought by the State government, workers who are from our township, must have a medical check first. Then, they may be sent to their homes and they must stay in strict home quarantine for 14 days," said U Kyaw Myint.
The Mon State government is emphasizing that returnees must stay at home at all times but separately from family members. Proper protections means not touching any family members, to wear surgical masks during 14-day home quarantine, not to have meals together with family members, not to go to any crowded areas, and to report to the public health department if there is any symptom of illness. It is also critical for all family members to wash their hands frequently with soap and water.
"The government delivered a pamphlet with (COVID-19) education. There were medical checks in the village. Now the list of returnees is being collected in the villages," said a local resident.
As of March 27, there were 5 confirmed cases of COVID-19 in Myanmar and there were 21 suspect cases in Mon State. According to the State Public Health Department, the Mon State government has prepared about 800 beds for coronavirus patients.
U Thein Swe, the Union Minister for the Ministry of Labour, Immigration and Population, made clear that returnees who failed to cooperate with a medical checkup requirement of COVID-19 will face punishment in accordance with the Infectious Diseases Prevention Act.
Comments