Myanmar Teachers' Federation argue extending class time is unlawful
HURFOM: The Myanmar Teachers' Federation (MTF) has noted the government's plan to extend class time for primary basic education school to the end of March in 2020 is not consistent with the law.
According to U Aye Theik from the MTF extending class time is also not consistent with Ministry of Education documents such as the Report on Analysis of Multipurpose Education System, the National Education Strategic Plan, and Myanmar's National Education Law and Basic Education Law.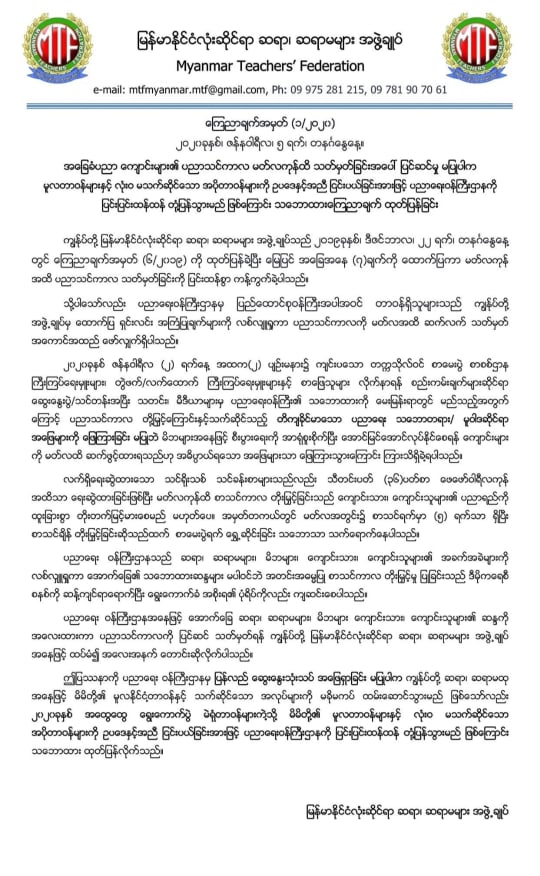 "We see this policy change for extending the class time of exams until March 25 is not matched with by (their own) enacted reports and law," said U Min Aye Theik.
Currently the curriculum is designed for 36 weeks, taking class time until the end of February. The extension of class time to March won't help students, according to statement released by the Myanmar Teachers' Federation on 5 January.
There is still no response from the Ministry of Education to a protest letters submitted by MTF in late December 2019 and early in January 2020.
The Federation has noted that teachers will refuse to help in election activities that are not related to their original duties if the Ministry of Education fails to review the extension of class time issue.
"Our Federation's branches are in 30 Townships. We will be doing a survey of teachers perspective in these townships. Then, we will publish a report. The report will be sent to Pyithu Hluttaw Education Promotion committee, and the National Parliament Education Promotion committee", continued U Aye Min Theik.
According to MTF, their report will include the results of the teachers survey and evidence of the inconsistency between existing law and the Ministry of Educations own reports.
"Articles related to education will be referred. Because their policy change is not matched with existing law. Teachers' opinion will also be included. There will be a solution when the report is out," said U Aye Min Theik.
State and region education colleges are also protesting the policy change by wearing green ribbons.
Comments