Minorities concerned their ethnic titles may be lost
HURFOM: Non-Burmese ethnic minorities are expressing concerns their ethnic titles may gradually disappear due to an electoral and other formal registration systems that appears to favour Burmese or Burman titles.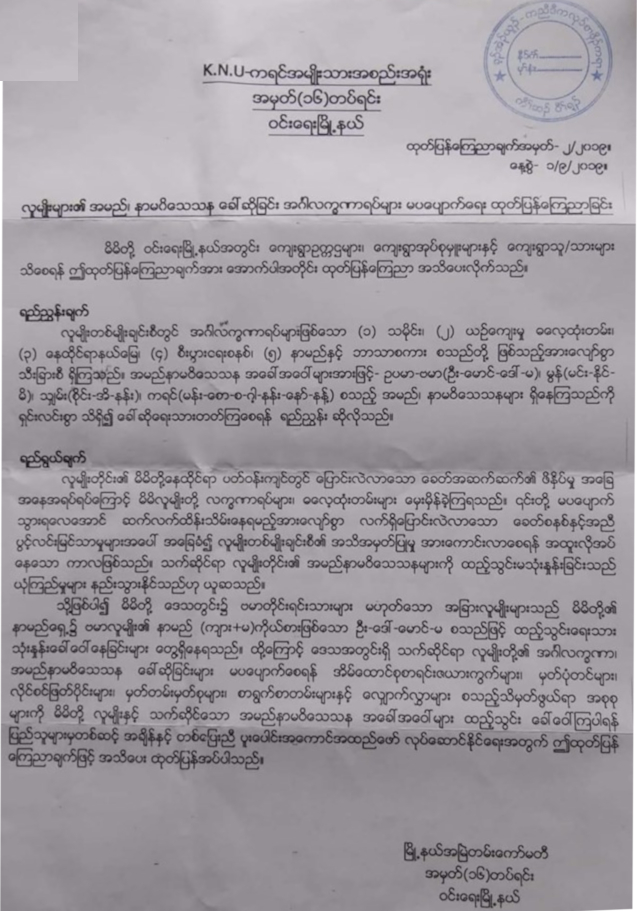 On March 2, 2019, as part of the "Faithful (Thit Sar) Project", National Registration Cards were granted to local residents. Individuals wrote their ethnic titles ahead of their names but some staff with the National Registration and Citizenship Department did not accept "non-Burmese ethnic titles" and forced these applicants to write "Burmese titles".
On September 1, 2019, Battalion #16 of the Karen National Union (KNU) based in Win Ye Region, Kyarinnseikyi Township, Karen State released a statement urging people to know and use their own ethnic titles.
The statement said Burmese people have ethnic titles (U, Maung, Daw, Ma); Mon people have their own titles (Min, Nai, Mi); Shan people use (Sai, Ei, Nan) titles and Karen people have (Mahn, Saw, Sa, Ga, Nan, Naw, Nant) ethnic titles.
Some non-Burmese people do not wish to use Burmese titles (U and Daw) to preface their names. They prefer to use their own ethnic titles.
"I feel that (Burmese) racism has swallowed (a huge amount of influence over) us – ethnic minorities. While Burmese people are promoting Burmese racism, we must protect our ethnicity as much as we can. Each of us should do this with our own senses," said Padao Saw Maung Shwe, the Chair of KNU Battalion #16 in Win Ye region.
The Union Election Commission had issued controversia instructions for the process of developing a voters' list for the upcoming 2020 general election. The Commission had said, the title (U or Daw) must be written ahead of voters names for those who were over 18 and the title (Maung or Ma) must be written ahead of the names of those under 18 years of age.
U Hein Lin Htet, the Secretary of Mon State Election Sub-commission explained this directive was related to a software programming limitation. "Without putting (U or Daw), ethnic names can't be written (into the voters' list). (U and Daw) titles are used to differentiate male and female by computer software program. [However] If you want to put your own ethnic name, you can write it after (U or Daw) title," he added.
However, the statement from the KNU Battalion #16 urged that when applying for household list, or a National Registration Card (NRC), or different kinds of licences and government documents, every person should write their ethnic title ahead of their name.
This disagreement led the Deputy Speaker of Mon State Parliament, Dr Aung Naing Oo to intervene and negotiate with the Chief Official of the Township Immigration Department and Department of Labor as well as the village Administrator.
Using his social media platform Dr Aung Naing Oo intervened by writing, "This(putting ethnic titles ahead of names) is a fundamental right of ethnic minorities. If this right was refused and there is government staff who denied the rights of ethnic minorities, please inform me or [the] Chief Official of the Township Immigration Department with detailed information. We'll solve the problem effectively."
Previously, for NRC applicants it was compulsory to write the Burmese titles (U and Daw) ahead of an individual name even if they person is not Burman. Now applicants are allowed to write any ethnic title they wish to use, according to a government official.
"There is no prohibition (on putting titles) in Myanmar Citizenship Law. Based on the applicant's ethnicity, he or she is allowed to write his or her name in their own ethnic language as they want," said U Tin Chel, the Director of Township Labor and Immigration Office.
Earlier this year, State Counsellor Daw Aung San Suu Kyi also weighed into the debate when she said at a Peace Talk held in Mawlamyine University on June 14, 2019, "Putting Burmese titles (U or Daw) ahead of non-Burmese ethnic names is because of having respect to those individuals. U or Daw can be excluded in informal and social usages but when applying NRC or government documents, everyone must follow the rules and regulations."
Comments