Locals demand government to protect them from possible landslide

HURFOM: Since 2018, the Sarsanar 2500 Monastery located at Sit Kel Kone Ward, Mawlamyine, Mon State has been constructing a four-story building on a hill on the monastery premises. During the heavy rains in August, 2019, there was soil erosion from the hillside and local residents living at the base of the hill worried about a possible landslide.
Following the landslide at Ma Lat Mount in Paung Township, local residents in Sit Kel Ward have worried a similar tragic event may strike their community. In August, 2019, 72 people died in the landslide at Ma Lat Mount in Paung Township, Mon State and another landslide at Ma Loi Mount in Yebyu Township, Tenasserim Division killed two people.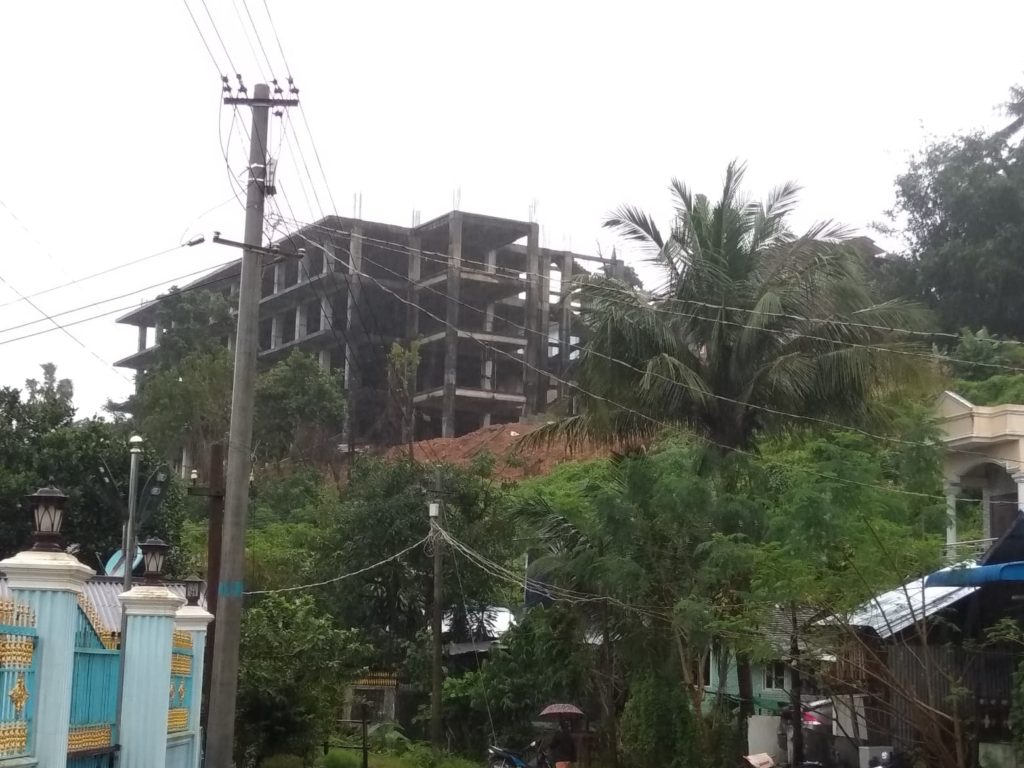 "My home is nearest to the hill so I've been worrying a lot. The weather is getting worse day by day. Our lives are at risk. When there is a heavy rain, we daren't sleep at our home. Some (of my neighbors) go to their relatives' house at night because they daren't sleep at their home. This issue is too much related to the lives of citizens," said Daw Khat Tar Aung, a homeowner at the base of the hill.
There are approximately 200 houses at the base of the hill and the community population is estimated to be between 800-1,000 persons. The monastery halted construction after the Thel Phyu Gone event.
Last year in August, 2018, there were heavy rains and soil from the hillside collapsed burying half of the houses at the base of the hill. Local residents suffered losses, noted Daw Khat Tar Aung.
Local residents filed a report at the time, to the Mon State government and the office of the Mon State Parliament. However, after the Mawlamyine Municipal Department checked the damage, they were unable to do anything because the issue related to the Ministry of Religious Affairs and Culture.
Residents expressed frustration about such internal government processes. "… the landslide hasn't happened yet but if (it) happens, (the loss is) unthinkable. It's better to do (some) protection before it happens," said Daw Khat Tar Aung.
Local residents say it is the government's responsibility to solve the problem. Daw Maw Maw Myint who lives at the base of the hill said, "We only want the solution. After consulting with the scholars, the government must …prevent (a) landslide."
On August 23, 2019, local residents demanded the State government undertake prevention measures to prevent a landslide and address damage resulting from the initial construction of the building that began in 2018.
The Administrator of Sit Kel Gone Ward, U Cho said, "I know that the construction of the building was prohibited (by the government). After the events at Thel Phy Gone, people are really afraid of landslides."
Comments