Family of man killed by Captain Aung Ko Ko Min from LIB #587 still waiting for answers after almost 3 months
It has been almost three months since Captain Aung Ko Ko Min from Light Infantry Battalion (LIB) #587 shot and killed U Tin Soe Myint, a villager from Kalagoke Island, Lamine Town, Ye Township, Mon State. However, the victim's family has yet to receive confirmation of the perpetrator's arrest and has had little communication regarding the case from either the military or the Mon State government.
The deceased man's father-in-law, Nai Chan Aye, explained that, "We sent a letter to the [Mon] State government and parliament in May. It has been about three months already, but we have heard nothing from them. We haven't even received any notifications from them. We would like to know whether they have charged the perpetrator."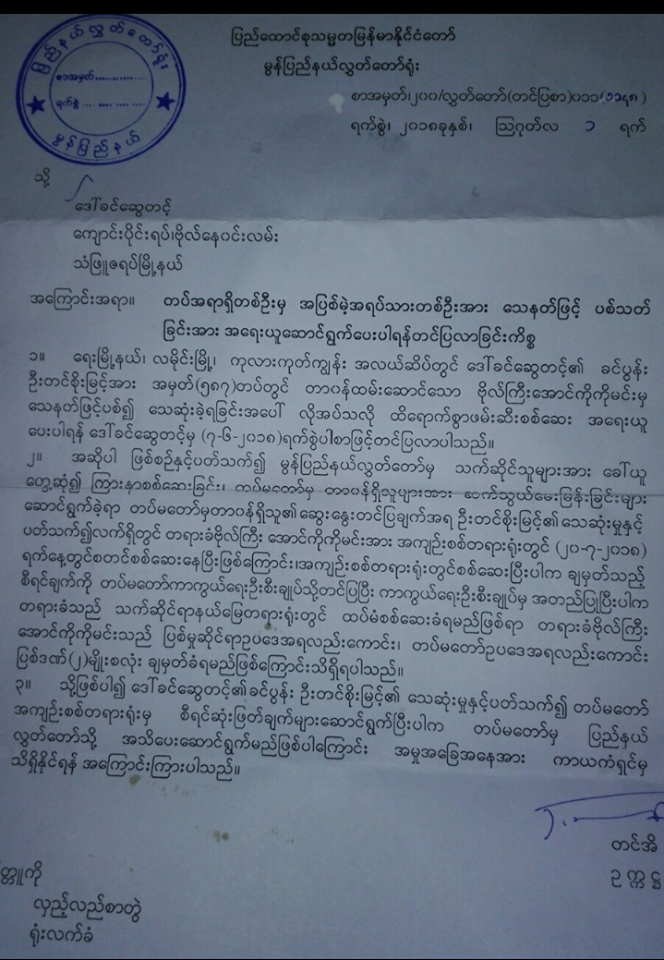 Moreover, on July 27th, the victim's family had an appointment with a military commander from MOMC #19 in Ye Township and the family brought representatives from CSOs as support. However, the victim's family did not meet a military commander as he was on a trip; the family instead met with Deputy Commander Kyaw Zaw Lin.
Nai Chan Aye added, "the deputy commander said the military commander was on a trip. They said they investigated the case and sent a report to Senior General Min Aung Hlaing. Once they receive a response from him, they will take action on the case. Currently, there has been no solution yet. In addition, we sent a letter to file a complaint to the Mon State government and parliament; we have not heard from them yet."
On June 26, the victim's family reported the case to the Mon State Joint Monitoring Committee (JMC-S) as well.
"We reported about the case and would like to charge Captain Aung Ko Ko Min as an example for the other villages so that they do not to suffer like we are now in the future," added Nai Chan Aye.
Daw Khin Swe Thint, the victim's wife, said, "I want the truth. It has been nearly 3 months now [since we was killed] but I have heard nothing from the government. Now I live at my father's home and do not have many worries, yet but I have some difficulties for my children who are in school."
U Tin Soe Myint was killed after he failed to produce his National Registration Card (NRC) to Captain Aung Ko Ko Min.
U Tin Soe Myint's mother-in-law had borrowed 3,000,000 kyat (US $2,228.82) him, and he planned to take her farm if she could not repay the loan. His mother-in-law, however, rented her farm to another man, U Htay Ko, to grow crops on it. U Tin Soe Myint was unhappy about that, and destroyed U Htay Ko's fence. On May 13th, they called in the head of 100 households to solve the problem. Captain Aung Ko Ko Min went to the home of the 100 households head to discuss the dispute.
When U Tin Soe Myint informed the captain that he had lost his NRC, "the captain got up and kicked the victim once and punched him five times. He kicked him again as he was coming down the stairs. Three soldiers, wearing the victim's clothes, punched him down the stairs. After punching him, they took him to Tat–kone military base located between Auk–seik and Ah–le–seik on Kalagoke Island. They told me, his father–in–law, to go home," continued Nai Chan Aye.
An administrator from Ye Township explained, "once they got to the military base, the captain interrogated the victim again. Then the victim got angry and asked the captain, 'Who are you? Why are you doing this to me? What is your position?' The victim said that he could travel anywhere in Burma that he pleased. After that, the captain got angry and shot the victim with an A2–0929 gun at around 8 pm at night on May 16th."
The body was sent from Kalagoke Island to Lamine Hospital for forensic examination and his body was cremated in Lamine Township. Captain Aung Ko Ko Min was initially charged at the Lamine Police Station with murder under Article 302 of the Penal Code and detained at LIB No. 587 on May 18th.
U Tin Soe Myint is left behind by a wife and three children, one in Grade 9 and another in Grade 5.
Comments