Customary land practices in Mon State and Mon areas under threat, according to new report
HURFOM: Civilians who rely heavily on land for daily survival needs face social injustice, according to a new report by the Mon Area Customary Land Tenure Documentation Committee (MACLTDC). The report released on February 11th 2018 in Mawlamyine looks at the customary land tenure practices of Mon people in their communities and followed more than ten months of public consultations and surveys.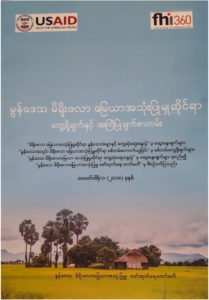 According to Nai Sawor Mon, a committee coordinator, they found that there are many threats to traditional community land tenure and ancestral land ownership embedded in existing state laws. Lands that have been transferred by family for many generations in communities are not recognized under current land laws, while some of these lands are categorized as wild and unused by the Burma government.
He added, "our Mon ethnic people have belonged to these customary lands for several hundreds of years. But according to the laws, we no longer own any lands. We just want the right to work on the land. Therefore, we need to advocate for the recognition of our ethnic people's land tenure during the peace process. It is an important issue."
Committee members involved in the consultation and survey also expressed how laws must reflect customary land tenure in Mon areas. They believe that if land laws in Mon areas are regulated by the Mon State Parliament, the outcome will be much more beneficial than if done so by the Union Parliament.
According to MACLTDC, the committee travelled through 11 townships in Mon State, Karen State, and Tenasserim Division, conducting 19 rounds of public consultations with 639 people from local communities. The committee documented local Mon land management strategies, particularly the systems in place that distinguish land which belongs to individuals and land which belongs to the community.
In order to understand how these two types of land are managed by farming families and community leaders, MACLTDC trained young community activists to conduct quantitative surveys in these townships. The surveyors used two sets of survey questionnaires and conducted interviews with 1,934 people.
Nai Htay Aung, also a committee coordinator, said "as the son of a Mon farmer it is quite special to conduct this project. Honestly, I didn't know much about land before we started this project. When we arrived at the rural Mon villages there were many surprising things about Mon people's definition of land, as well as the differences in land tenures between an individual and the community. We found there were many community lands which were confiscated during previous military governments."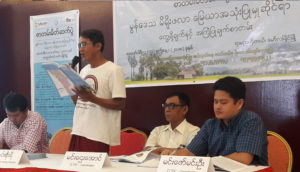 Nai Sawor Mon also expressed the challenges currently facing customary land use, especially the expansion and recovery of forestry lands; the government's recognition of ethnic people's land as wild and unused in their mapping; and regular arrivals of Foreign Direct Investments (FDI) and mega projects, and the type of land and water grabs associated with FDI.
Burma's 2012 Farmland Law does not acknowledge customary land tenure and the 2016 National Land Use Policy does not include an exact description of land use policy in ethnic areas. This allows domestic and international companies to confiscate land and it creates conflicts regarding land issues.
According to the report, land laws in Burma are not strong enough to protect its own civilians, as domestic and international companies and the government have continually encroached in ethnic areas for resource extraction projects, contributing to mass human rights violations in the process.
The committee plans to hold meetings with the Mon State Parliament, Mon State government, and Ethnic Armed Organizations (EAOs) to advocate for the protection of customary land tenure and the farmers who practice it.
Comments