Attempted Rape of 13-year-old girl in Thanbyuzayat Township, Mon State
HURFOM: On October 9th 2017, it was reported that a 26-year-old daily worker Maung T— from Htan Pin Gyi Chaung (Wae Ka Poke) village, Paung Township, Mon State, had attempted to rape a 13-year-old named Mi H— who lives in K— Ward, Pa Nga village, Thanbyuzayat Township, Mon State.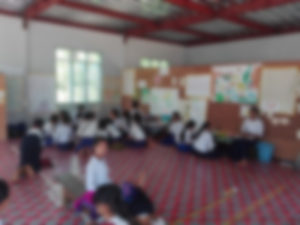 During the incident, the girl was home alone as her mother was travelling to Ah Nin village to sell fish paste, while her father was fishing in Ye and her brother was working at a rubber plantation. However, her mother asked a 50-year-old neighbor named Daw M— to look after her daughter as she was home alone.
When Daw M— saw that Maung T— was heading towards Mi H—'s house, Daw M— stopped him and told him not to go to the girl's house as her mother was not at home. However, Maung T— ignored Daw M—'s warning and went to the house anyways. As his behavior was suspicious, Daw M— went to the girl's house later and saw both of them naked in the bedroom.
She said to Maung T—, "You can't do this." However, she was afraid to stop him so she went to ask for help from the neighbors. After the incident, Daw M— contacted the girl's mother and she arrived home at 12:00 pm. After that, they reported the incident to the village administrator and the perpetrator was arrested at his mother's house as he had fled from his house.
According to Daw M—, Mi H— said, "Maung T— arrived home and asked me if my mother was at home. After that, he went into the house, closed the doors and brought me into the bedroom. He took off my pants and I heard Daw M—'s voice when he was taking off his longyi. When I tried to reply to Daw M—, Maung T— covered my mouth."
The girl's mother wanted Maung T— charged with Myanmar Penal Code #376 (punishment for rape) and Penal Code #511 (punishment for attempting to commit offences punishable with transportation or imprisonment) at the Thanbyuzayat Police Station. However, the Thanbyuzayat police charged Maung T— with "attempt to rape" as it has been difficult to medically prove whether the girl had been raped by Maung T—.
According to the girl's mother, Maung T— is married and is allegedly notorious for having relationships with many women.
Over the past several years, there has been a marked increase in the number of reported cases of sexual violence against children. In March 2017, HURFOM released 'Cracks in the Silence,' which explores this growing phenomenon, as well as the challenges to accessing justice for families and survivors of sexual violence in Burma's pluralistic legal system.
Comments