Mon State Chief Minister sets deadline for EMP reports for rubber industry
HURFOM: According to the Mon State Chief Minister Dr. Aye Zan, October 31st 2017 is the final deadline for small and medium-sized enterprises (SMEs) related to the rubber industry to submit their Environmental Management Plan (EMP) reports. The chief minister set the deadline after the Mon State government met with several SME owners on October 9th 2017.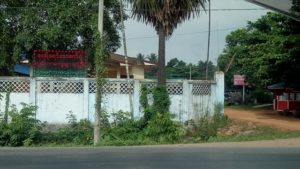 "We've already met with the owners of the businesses. Some [local] people have made complaints about these businesses to the government, so parliament approved the proposal [that they must submit their EMP reports]. The government must manage to fulfill the desire of the people. Our main target is to make sure that they submit their report in order to reveal how they manage their businesses in order not to damage the environment," said Dr. Min Kyi Win, the Minister of Natural Resources and Environmental Conservation.
There are thirty-two SMEs in Mon State that are related to the rubber industry, including the rubber plywood and lumber industry. Due to the nearby location of these businesses to villages and towns and the strong odors emitted by them, locals concerned about the health ramifications of these emissions have lodged complaints with the Mon State government.
During the recent seventh session of the Mon State Parliament, the chief minister stated that SMEs that have not followed the procedures in their EMPs must be closed. The government announced their plan to fund 'the construction of hi-tech and modernized rubber industries' in Mon State and that those industries must also be supervised according to their adherence to their submitted EMPs.
"Yone Shin and Fuji Industries in Mudon [Township] have produced very bad odors. Not only the residents, but even the travelers who use the main road have to cover their noses and mouths [when they pass through]. We heard that there will be changes, but we don't know exactly if the industries [have to] move. The owners of the industries have just been doing the same as what they always do," said Nai Blai of Kwan Tar village, Mudon Township, who sells rubber slices to Yone Shin Industries.
Comments