Thaton District jail cells overflowing with young drug users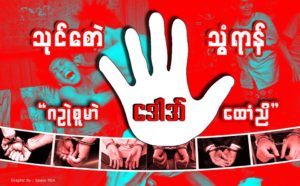 HURFOM: There are not enough cells in Thaton District's jail to deal with the youth drug problem, according to Nai Nyan Seik, an office administrator for the New Mon State Party (NMSP) in Thaton District, Mon State.
His comments come after the Thaton District NMSP has recently received an overwhelming number of parents asking for help with their children who are abusing amphetamines.
"The parents of youths come to our office every day and ask us to put their sons in our cells due to their addiction to drugs. Our cells are over capacitated as it is. Even though parents request [a spot for their children] we can't accept anymore inmates," he said.
He added that, parents come from as far away as Kyaikmayaw, Mawlamyine District and Kawkareik Township, Karen State to ask for help with their children. This places an extra burden on the Thaton District NMSP who are struggling to control the youth drug problem in their own district, often releasing arrested drug users as there is no space to hold them.
"We have about 70 cases which are related to drugs in our [Thaton] District cells. Only one or two are about other crimes. The drug users [in custody] are between 20 to 30 years old. After using drugs, they have many problems in their life and we can do nothing for that," said to Nai Nyan Seik.
It is believed the current surge in drug use among young people over the last several months is linked to the Burma Army's seizure and closure of several NMSP checkpoints in February 2017, providing drug traffickers safer passage when bringing amphetamines into Mon State.
Amphetamine usage has even infiltrated local schools. According Mi J—, a student from Thanbyuzayat Township, "the grade nine (standard eight) students and some male students from the school are using a lot in the classroom. I am not sure teachers know about it or not. They bring it with them and they don't even care if the other students see it."
Unfortunately, the abuse of amphetamines by young people in Mon State is not new. "For the last two or three years, parents having been coming and requesting we keep their sons in our NMSP jail due to their worry that Burmese authorities will arrest their children over their drug use. Parents from Kyaikmayaw, Kawkareik, Bilin, Mudon, Thanbyuzayat, and Ye townships have requested the NMSP to hold their sons in custody and educate them about drug use," said to Nai Nyan Seik.
Although the NMSP in Thaton District has been inundated with requests by parents from all over Mon State and Mon areas to hold their children in custody, Burmese authorities have warned the NMSP about arresting drug users who reside outside of NMSP jurisdiction, in addition to pressuring the NMSP to refrain from trespassing into Burmese controlled areas.
Thaton District's jails cells are currently overflowing with young people addicted to drugs. Even though there are rehabilitation camps for drug addicts in Mawlamyine City, families from rural parts of Mon State prefer to avoid the city and bring their children to Thaton District, where they hope their children get the help and education to put their lives back on track.
Comments