Family unhappy with police inaction over an attack that left a 13-year-old boy hospitalized
On January 28th2017, a 13-year-old boy from KyikeYae village, Mudon Township, Mon State, was beaten by an unknown group from Taw Kuu village and hospitalized with serious injuries.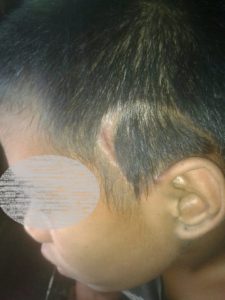 While a group of youths from KyikeYae village were outside playing, another group of children from Taw Kuu village came andbegan to beat them with sticks. The KyikeYae children were injured, including a 13-year-old boy, Maung D—, who was subsequently hospitalized with serious wounds to the head.
Due to the severity of his injuries, the local doctor recommendedtakingMaung D— to the hospital in Mawlamyine. Maung D— was then transferred to ahospital in Rangoon by his family after he did not improve in Mawlamyine. Several days later, Maung D— moved back to the free hospital in Mawlamyine as his family could not afford the hospital services in Rangoon, according to Maung D—'s father.
When the victim's father reported the incident to the KyikeYae village administrator, no action was taken. Neither was any action taken when the family later reported the incident to the Mudon Township police.
"I heard that the police had arrested two men, but when we asked the police they said they hadn't arrested anyone yet. One of the policemen told me that, if the perpetrator comes and discusses about the case [with us], just accept it [the outcome]," said the victim's father, U M—.
He added that, "we have discussed [about what to do next] at the lawyer DawSandarThein's house one time already. We don't have any money to pay for the cost of the hospitals; we are poor anduneducated,so no one caresabout us. Even though we reported about our problem to the authorities, nothing happened."
Due to the fact that the village administrator and the police in Mudon Township did not take any action, the victim's family reported the incident to the MudonCourt. The victim's family wishes that the authorities would take action in accordance with the law in order to get a fair decision on their case.
Comments