Over 5,000 people protest proposed bridge name in Mon State
On March 2, 2017, approximately 5,000 people from Mon State participated in a protest against the naming of a bridge linking Mawlamyine and Chaungzone townships after General Aung San.
Demonstrators shouted: "We want national prestige! (We want it, we want it!); We want acknowledgement of the will of the indigenous people! (We want it, we want it!); Immediately stop defying the will of the people! (Stop right now, stop right now!); We want our [traditional] name! (Rehmonnya! Rehmonnya!)." Protesters held signs written in both Mon and Burmese as they marched to the bridge from Ma Hee village.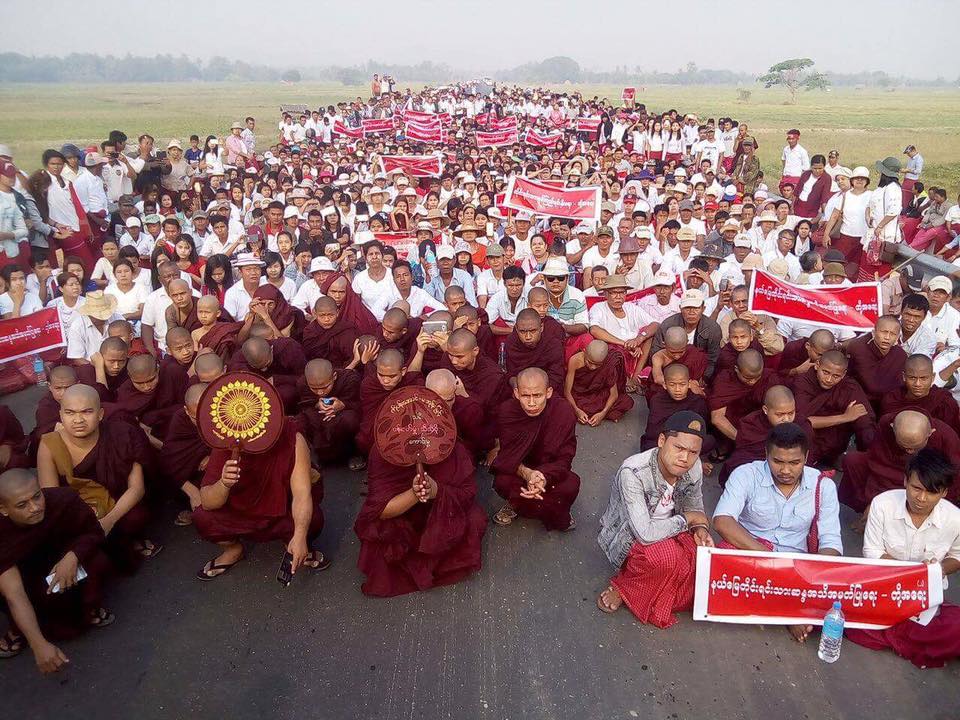 "It doesn't mean we do not respect the name 'General Aung San' as proposed by the Paung Township Pyithu Hluttaw (Burma's Lower House of Parliament) Representative Mi Kon Chan, but the bridge is the only thing that we have received from the government in our region. So we would like to give it a name that our Mon people want. Mi Kon Chan said we never see the name of Bogyoke (General) Aung San in Mon State. I think she did not really look around Mon State; if she looks carefully she will see there are a lot of places using Bogyoke Aung San's name, such as markets and streets. That is why we have to protest it. We will protest until we get the name we prefer," said U Wara Wunsa, a local monk who participated in the demonstration.
"After the demonstration we will send letter to the government. We will wait for their reply for ten days and if nothing has changed, we, as a united Mon people in the region, will protest again. Therefore, the government should think about giving the [bridge] a name our Mon people prefer," said Mi Jondar Non, who joined the demonstration.
This is not the first time protestors have voiced their displeasure with a proposal to name the new bridge after General Aung San. Earlier in February, Mon State Minister and Mon State Minister of Municipal Development and Construction, U Min Min Oo, had already named the bridge after General Aung San, sparking fierce local opposition. U Min Min Oo resigned shortly after.
Comments