A literature talk about coal mine was held in Ka Don Si village
On February 10, 2017, a workshop on environmental, land, and human rights issues in relation to coal mining was held in Ka Don Si village, Kyaikmayaw Township, Mon State. The workshop was organized by the Human Rights Foundation of Monland (HURFOM) and local villagers.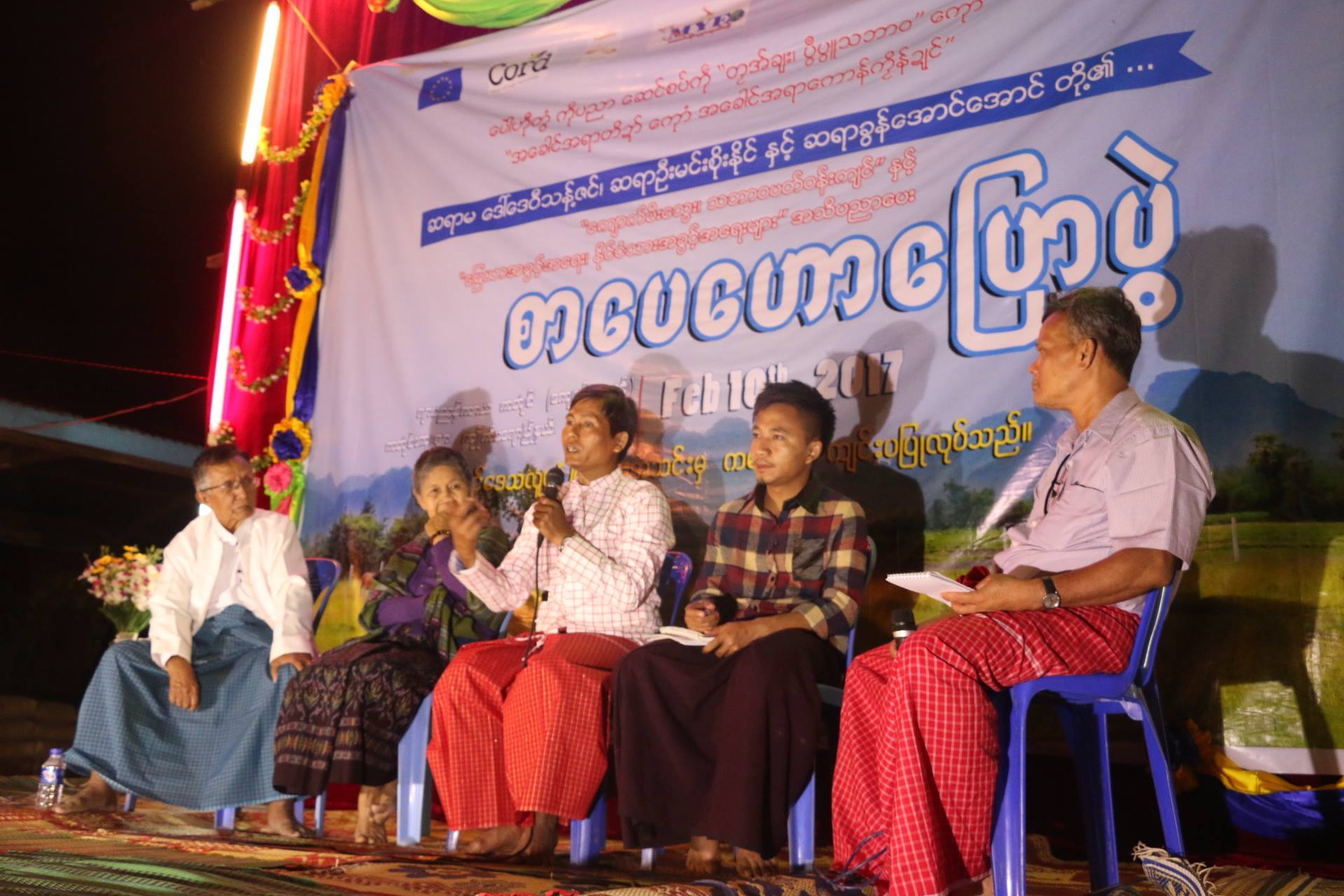 The event started around 6 pm and over 300 people participated. During discussions, U Min Soe Naing, Daw Dawai Thant Zin, Khun Aung Aung, Nai Kasauh Mon, and Chaungzone Township Hluttaw representative U Aung Naing Oo were invited to speak.
The event was undertaken in order for locals to gain a greater understanding of coal mining near their communities, as well as to educate about the disadvantages of coal mining and to prevent the extraction of coal by Myanmar Cement Limited (MCL) company.
According to Nai Mg Mg Myint, who is the leader of the MCL prevention group in Ka Don Si village, "Our villagers are afraid to talk about the law due to a lack of knowledge about it. So we would like our people to gain knowledge about this. If they understand more about these issues, they will be more concerned and try to prevent it [coal mining] in their community. Even if after this event nothing has changed, we will continue to protest for our community."
Even though locals from Ka Don Si village and eight other villages protested the coal mining, there were not effective. According to the locals, village administrators from some villages do not like these activities.
"We would like them to stop the production of the coal mine. In the beginning, the locals from six villages ─ Kaw Doon, Kaw Pa Naw, Mae Ga Ro, Kwan Ngan, Ka Don Si and Hnee Ton ─ were protesting, but they were not successful. However, we never gave up and continue our activity. Nowadays we can see there is some progress. There are three more villages ─ Inn Thazin, Kaw Wan, Pin Ka Mar Kaw ­─ which are now involved and working with us," said U Naing Shwe Win, who is the leader of anti-MCL protestors from Mae Ga Ro village.
He added that, "Some of our village administrators do not like our activities and our group. They want to forbid it. Sometimes, even if we invite them to some of our events related to protesting coal mining, they do not attend. Actually, they must be leaders of that kind of activity for our community. We would like to tell our village administrators that if you don't want to join us it is fine, but don't threaten our youth who are involved in this activity."
The authorities have questioned youth participants, intimidating the young protestors who do not understand the process well.
Mi Aye Mon, who is a leader of a youth group from Kwan Ngan village, said, "In the beginning, we didn't understand about the dangers of coal mining and did not really worry about it. After we joined this event we understood the disadvantages of coal mining and we are concerned for our environment. In the past, our environment was green and now it looks like it is damaged and we feel unhappy. We would like to thank the people who gave us a chance to learn about this and we are happy to join this event."
Similarly, in February 2016, there was workshop in Kaw Pa Naw village and local from six villages were involved and around 3000 people joined the event.
Comments