Local villagers protest against gravel production project in Paung Township
On June 5th, 2016, World Environment Day, 500 people from Ouktada village, Paung Township, Mon State, took to the streets to protest against gravel production by Long Life Aggregate Mining Company Limited.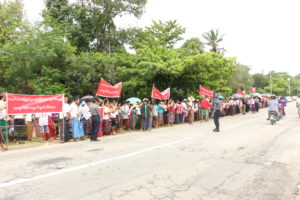 The protest started at 9:00 AM and lasted until 12:00 AM. The main speakers and leaders of the protest were: U Mya Thwin, U ZawHtwe, U Aung Lwin, U Tin HtunNaing, U San Aung, U Myint Aung and Ma Thida.
The slogan of the protest was to protect Kalarma Mountain range, and to protest against stone mining which affects water resources and ruins farmland and plantation gardens. The protesters hope to put a stop to the stone mining project led by Long Life Aggregate Mining Company Ltd.
"In Ouktada village, we have four streams [rivers]; one of them has started to become ruined. No clean water is flowing in the river but now there is cloudy water. We are witnessing it", expresses one of the speakers. Furthermore, "Currently, Kalarma Mountain is not completely affected yet but if we cannot protect it, we will suffer in the future. We will suffer from cancer. On Kalarma Mountain base, there are plantation gardens, farmlands, and Buddhist temples and pagodas that we value. This mountain is our life."
On the west of the village, there is a lot of farmland that is owned by ethnic villagers. Villagers rely on water from the stream for farming and their income. One of the speakers added: "Today, due to the mining activities, we have lost water to farm and it is destroying our plantation gardens. It affects our lives. That is why we are opposing this mining project"
Ma Thida continued: "Due to this project, we are divided even amongst family member. We argue with each other. Do we need this kind of project that divides us? This project also has no transparency. We need to stand united and oppose it".
"We are here today to protest against this mining because it destroys our farm, plantation, and water supply" stated another speaker.
Since the beginning, this stone mining project has lacked transparency. The company has been operating their project by cheating the local people by not informing locals on decisions and what they are undertaking. The previous government has not taken responsibility and accountability for the issues that occurred. That is why this problem still continues today.
Comments