Around 6,000 villagers rally against proposed Ye Township coal-fired power plant
Ann Din, Ye: On May 5, 2015, approximately 6,000 residents from a number of villages gathered to protest against a proposed coal-fired power plant, to be built in Ann Din Village, Ye Township.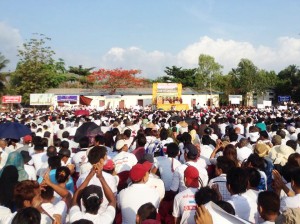 In April this year, Toyo-Thai Corp. signed an agreement with the Department of Hydropower Planning, outlining plans to develop a 1280-megawatt coal-fired power plant in Ann-Din Village. According to a company statement, the project will begin in 2016 and span 30 years, with a total investment of US$2.8 billion.
Those who gathered on Ann-Dinn's football pitch to protest against the project included monks, Htuttaw representatives, civil society organizations, environmental activists, youth groups and local villagers. Together they released a statement, accusing the government and Toyo-Thai Corp. of failing to be fully transparent with local people about the project. In particular, it is alleged that when representatives from the company visited the area last year, they hid their intentions behind the purchase of 500 acres of land, claiming that this was for agricultural use and to build factories.  Local residents quickly became unhappy when they found out that this land would in fact be used to build a coal-fired power plant.
Protestors detailed that they had come to join the rally because they were aware of the negative impacts that the proposed power plant would have on local people, especially given that local populations are unlikely to receive significant benefits. Ye Social Society (YSS) member Nai Soe Paing said, "This project will destroy our local socioeconomic situation and the environment. We must be against this project".
Villagers who gathered to protest represented a number of concerns. In particular, they are worried that the coal-fired plant will destroy local farms and plantations. As well as being crucial to livelihoods, in many cases these plantations have special emotional value for their owners, being inherited from ancestors.
Villagers are also concerned that if a local deep seaport is built to import coal, the livelihoods of local fishermen will be destroyed. Further, an anticipated influx of 20,000 migrant construction workers over the next three years, needed to build the plant, is considered a danger to local culture and livelihoods. Other worries surround possible dangers for children due to air pollution from the plant.
While Toyo-Thai has offered to contribute US$1.5 million towards regional development to offset negative impacts, this is considered insufficient. According to statistics collected three months ago by the Human Rights Foundation of Monland (HURFOM) during youth trainings in Ann-Dinn, on average betel nut, fruit and other plantations in the area are worth US$5 million a year alone.
Toyo-Thai and the government have allegedly ignored growing public concern, instead continuing to implement the project despite accusations that they are violating the rights of local residents. Dr Aung Naing Oo, MP for Chaungzon Township, alleged that while the President claims that the country now has good and clean governance, the government's failure to listen to its people in this instance is the act of an insincere dictatorship.
Residents have petitioned against the project since last year, yet one protestor expressed that they have been given no further information about the project's progress. Protestors claim that this shows a lack of transparency, which local people cannot accept.
Protestor Mi Myint Maw told HURFOM, "We will keep opposing this project, that threatens our lives and livelihoods, in all possible ways".
HURFOM and Mon youth organizations have released statements in support of the protestors and in condemnation of the project.
Comments