Weekly Overview: Human Rights Situation in Mon State, Karen State, and Tanintharyi Region
HURFOM | July Second Week
The situation in Southeastern Burma continues to deteriorate violently. Civilians have been forced to flee their homes and villages, desperately searching for refuge and protection. Even as they try to escape, the junta is relentless in firing ammunition and scores have been injured and killed while running for their lives. In addition, many suffer from preventable diseases due to the Burma Army's ongoing blocking of aid and urgently needed resources. Civil society groups and social welfare organizations are doing their best to fill the gaps in service provisions. Still, serious risks continue undermining stability in the region and countrywide.
The Human Rights Foundation of Monland (HURFOM) is committed to documenting the widespread atrocities rampant along the Thai-Burma border and in the dozens of townships across our target areas of Mon State, Karen State and the Tanintharyi region. Firing happens in Burma even when there is no conflict to provoke the regime. The attacks against civilians are indiscriminate and targeted.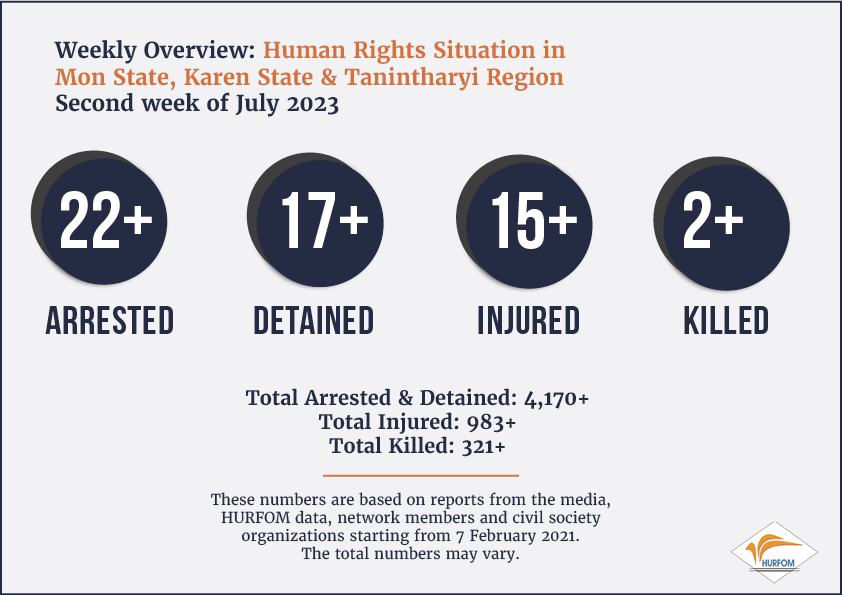 Five residents of East Mawton village in Tanintharyi were hit and injured when the junta military opened artillery fire on 3 July. There was no active conflict at the time of the attack. Between 9 and 10 PM, the junta artillery battalion in Tanintharyi Township fired more than twenty rounds into surrounding villages without a fight, injuring five residents from East Mawton village.
Artillery Battalion 306, based in East Mawton village, fired many artillery weapons toward East Mawton, West Mawton, Zalon Pyin Yo and Ak Daw Kang. As a result of the shooting, the shells hit a woman living in the bridge construction industry in East Mawton village, three men and another woman from a nearby house. In a related incident, On Jul 1, Ma Moe Pyae Hlaing, a 10th-grade student from Zalon village, was seriously injured by artillery weapons fired by the 306th Artillery Battalion.
In Karen State, forced displacement is ongoing as the junta intensifies their offensives. Starting from June 28 to this day, more than 1,000 residents from Khalae, Takhon Taing, Pulain, Old Town and Nyein Chan Myaing villages in Kyain Seikgyi Township
Township, Karen State, has been forced to flee and evacuate due to the Junta's Artillery Battalion No.318 based in Abis village in Mudon Township firing artillery weapons almost daily. There were also frequent explosions around villages. A mother of five children from Takhon Taing village said at an IDP shelter that the shells were fired in unpredictable places. They had to flee.
The Karen National Union issued a statement which also confirmed that as the military junta targeted civilians and opened fire on the villages and surrounding areas with artillery weapons every day, around 1,000 residents of villages such as Pulain, Khalae, Takhon Taing, and Nan Taing Thon evacuated. According to the emergency response team, the locals who fled to safety faced difficulty with their livelihood and needed emergency health assistance due to the continuous daily rains.
Still concerning is that civilians continue to be abducted by the junta on accusations of being affiliated with pro-democracy forces, including armed groups. The documentation network member reports that the Military Junta's Operations Command No.19 has abducted fifteen villagers on unjust accusations of being related to the People's Defense Forces. Some of those arrested were detained at the monastery of Hnit Ka Yin village by the junta troops, while some of the remaining villagers were taken to Thanbyuzayat police station.
These unjust acts reinforce the cruelty of the junta and the need for immediate international interventions to hold the military accountable.
Comments