Weekly Overview: Human Rights Situation in Mon State, Karen State, and Tanintharyi Region
HURFOM | July First Week
Human rights violations in Mon State continue to increase steadily. In the two and a half years since the attempted coup, military impunity is in every facet of life in Southeastern Burma. Civilians continue to carry the burden of their livelihoods being strained. Extortion is ongoing at checkpoints, and indiscriminate firing regularly threatens the safety of local people. The affiliation of the New Mon State Party (NMSP) to the junta has also caused divisions.
At the end of June, the 31st local military battalion launched indiscriminate artillery attacks on Kyouk Eye village, Khaw Zar Sub-township, Southern Ye Township, Mon State, killing a local woman. The NMSP visited the victims' houses to offer financial support. However, local Mon people have criticized them for their conduct in this incident and are questioning their political stance with the junta: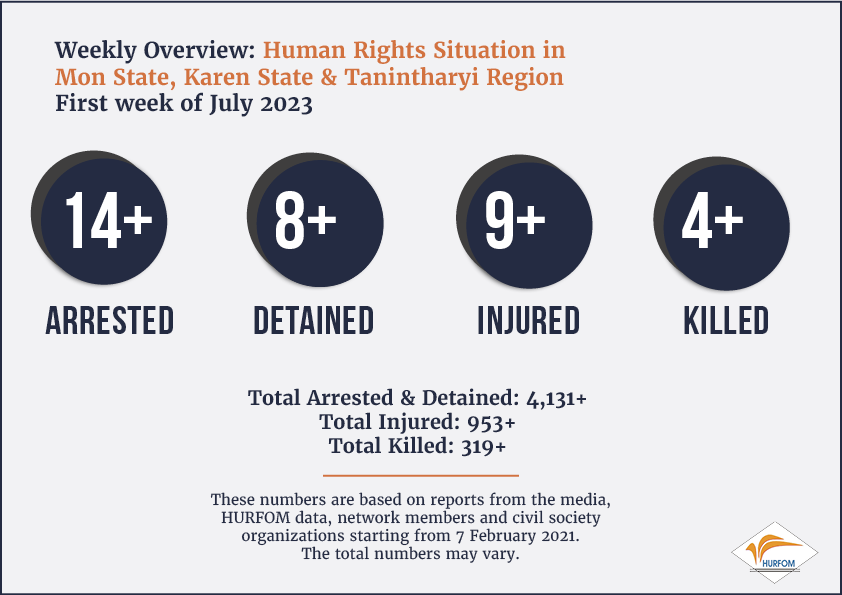 "The revolutionary forces are active in the NMSP-controlled areas, and the military has also abused villagers there. They frequently shot and killed people, yet the NMSP has provided social and monetary support to families to make them look like a charity group. They must stand with their people and reject the military," said a local villager from Khaw Zar Township.
Since June 15, the Karen National Liberation Army (KNLA) and the People's Defense Forces (PDF) have controlled parts of the Thanbyuzayat – Ye – Dawei Highway Road. After June 20, in some Mon villages where the joint forces of the KNLA and the PDF are active, the troops have pulled down the country's flag and replaced it with the flag of the Karen National Union (KNU), according to a source from Thanbyuzayat Township.
"The NMSP behaves the same way in both cases where people were killed in Kan Ne village (Kaw Ka Rate Township, Karen State) and Ye Township. The party just gave monetary support and released statements. We don't see their response militarily. To satisfy people, an armed revolution group must militarily protect its people," said a villager from Phar Lane region, Southern Ye Township.
Armed clashes have frequently occurred in Southern Ye Township, leaving local fruit plantation owners unable to go:
"About one-third of our durians are left to harvest, and there are mangosteens and rambutans to be harvested for the second time. Plantation owners dare not go to their plantations. They are afraid to stay and work, so they have been abandoned," said a durian plantation owner.
Plantation owners are facing a substantial financial loss: "The economy of Ye has depended on fruit plantations, and now we cannot go. Our livelihoods are being destroyed. We have a bad economy and a high commodity price, so we'll surely be in trouble." Burmese soldiers and other thieves pluck fruits from nearby plantations without permission from the owners.

In addition, violence is having a devastating impact on civilians. Five residents of East Mawton village in Tanintharyi were struck and injured when the junta military opened artillery fire without a fight. On 3 July, between 9 and 10 PM, the junta artillery battalion in Tanintharyi Township fired more than 20 rounds in surrounding villages. There was no armed conflict happening at the time of the attack.
Artillery Battalion 306, based in East Mawton village, fired many artillery weapons toward East Mawton, West Mawton, Zalon Pyin Yo, and Ak Daw Kang. Due to the shooting, the mortar shells hit a woman in East Mawton village, three men, and another woman from a nearby house.
Comments