55 arrested and tortured, detainees ransomed, but only four released in Kaw Ka Rate
HURFOM: As many as 55 local residents from Kaw Ka Rate #Karen were arbitrarily abducted and interrogated by the Junta forces; only four were released by family members paying ransom demands. A total of 54 people were arrested and have been detained from May 7th to the 22nd in  a military camp.
Sources close to the released villagers confirmed that those remaining are being tortured on a daily basis, in the army interrogation center.
The arrests were based on groundless accusations of providing financial and other support to the joint forces of Karen National Liberation Army and People's Defense Force that are based in Kaw Ka Rate township.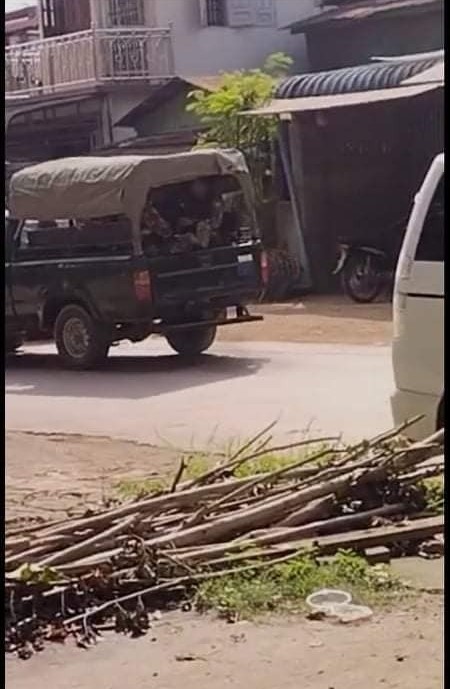 On May 25, 4 people were released after family members decided to pay the junta's ransom demands. Although it could not be confirmed how much was paid, it is thought each person's ransom was more than 20 lakhs Myanmar Kyat.
Sources close to some detainees, indicated that approximately 50 inmates who could not pay any ransom have lost contact with their family members.
"These people were arrested on false accusations that they were helping Captain Kyaw Thet, who is equipping the defensive resilience operations in this area and Kyar Phyu (white tiger) armed troops. The perpetrator troop is the 97th Infantry Battalion, which is based out of the city of Hlaing Bawk," said one person close to the families.
On May 22nd, six village Administrators were detained and interrogated and only released after they were told they must report the activities of any local defense groups to the junta and the General Administrative Department. The six villages included Sawhe, Nyaung Kile, Htee Po San, Hlaing Sein, Nyaung Nile and Yan Kok.
Currently, the Junta military is destroying roadways that connect villages and road points that lead to highways in Kaw Ka Rate Township. This is to prevent resistance forces in the area from easily using them.
In addition it is now common to see aircraft and drones in the skies, and for villages to be subjected to artillery fire. Residents are under constant and deadly threat, leading many to flee their homes.
Comments